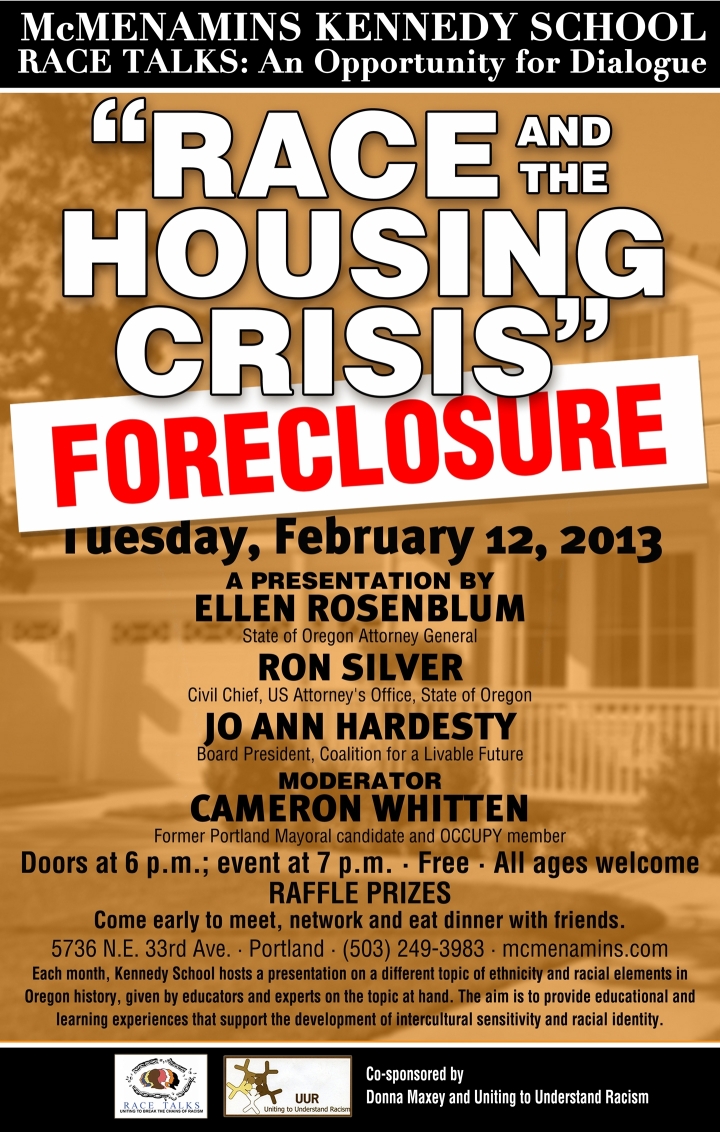 Please join us for the upcoming Race Talks program at
Kennedy School
5736 NE 33rd Ave., Portland.
Phone: 503.249-3983
Tuesday, February 12
Free/All Ages
7pm; Doors open at 6pm
**Come early to meet, network and eat dinner with friends.
"Race & The Housing Crisis"
A Presentation by
Ellen Rosenblum, State of Oregon Attorney General
Ron Silver, Civil Chief, US Attorney's Office, State of Oregon
Jo Ann Hardesty, Board President, Coalition for a Livable Future
with Moderator, Cameron Whitten, former Portland Mayoral candidate and OCCUPY member
Following the presentation, the audience will break into small discussion groups to talk over the evening's subject matter and more general topics of race and ethnicity. These discussion groups are facilitated by trained volunteers from Uniting to Understand Racism
http://www.understandracism.org/ and the City of Portland Intergroup Dialogue Program http://www.portlandonline.com/humanrelations/?c=54183
Please share this message and poster (click image to view large version) with to any group, business, school, class, and individual you feel might be interested. If you have questions or suggestions about the upcoming program (or the series in general), please contact us at the email addresses given below. And remember, Race Talks T-shirts are available for purchase at the program for $20; and there will be prizes raffled to raise funds for Race Talks.
Finally, please mark Tuesday, March 12 on your calendar for next month's Race Talks: "Hate Crimes in Oregon"
Respectfully,
Donna Maxey,
Race Talks Director/UUR volunteer
donnamaxey49@comcast.net
Tim Hills,
McMenamins historian
timh@hq.mcmenamin.com