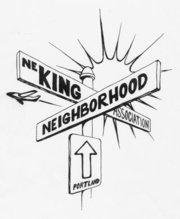 King Neighborhood Association General Meeting
at the King Neighborhood Facility, 4815 NE 7th Avenue
Wednesday, November 12, 2014 – 6:30 to 8:30 pm
Draft Agenda
6:30    Welcome and introductions.
6:35     Approval of minutes and agenda (Margo).
6:40   United Neighborhoods for Reform (UNR) resolution (Margaret Davis).
7:10   Tree Inventory Project (Elizabeth Specht).
7:15   St. Andrews Nativity School's Nativity Nosh –a Community Kitchen (Julia Ford)
7:25   Proposed Portland street fees.
7:45     KNA Land Use Committee update, including update from the Vanport/Alberta & MLK working group meetings (Leigh and Margo).
8:00   Green King update (Diego).
8:10   Safety in King update (Eileen).
8:15   Requests to use space in King school for public meetings by other organizations, including ADU tour and CURB PDX/Restore 3962 (Margo, Alan).
8:20   King NA communications plan (tentative) (Margo).
8:25   Floor open to announcements from all in attendance.
8:30   Adjourn.