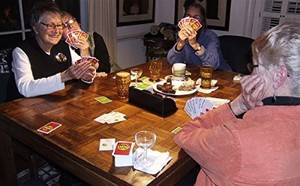 Remain in Your Home as You Age
with Support from an Aging-In-Place Village
If you are interested in remaining in your home as you age, now is the time to start planning. Whether you are a home owner, renter, share housing with family or others, the Village may be just what you're looking for.
North Star Village is hosting Village at Home talks introducing the local Village Movement and how Villages support folks to remain in the homes they love and the familiar neighborhoods they cherish. It's called "aging in place" and is a national movement responding to the need for services so folks can age comfortably and safely at home.
Invite your neighbors, friends, co-workers and reserve your seat for one of these living room talks:
           
Saturday May 9                           Saturday, May 30                  Saturday, June 6
2:00 – 4:00 pm                              2:00 – 4:00 pm                        2:00 – 4:00 pm
Find out what North Star Village will offer and how you can join others to shape the services and programs of our own virtual village.
Space is limited!  Call 503.978.0540 or go to www.NorthStarVillagePDX.org to reserve your place and receive the location.