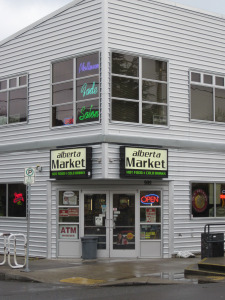 The OLCC has received a liquor license application for the Alberta Street Market in the King neighborhood area and would like to know if you are aware of any concerns. Located at 909 NE Alberta Street, the original owner, Pil Jun Chung, aka "Jack" of the market has applied for a Limited Off-Premises sales license (which allows the sale of malt beverages, wine and cider for consumption off the premises). After the Market was torn down and rebuilt in 2005-06, Mr. Chung sold the business to the current operator but maintained ownership of the building. Now he is buying the market back.
There have long been complaints of issues at and in the vicinity of the market such as panhandling, youth loiterers, street drinking and drug activity. It is a high vehicle and pedestrian traffic location that lies in the Last Thursday on Alberta area. Crime Prevention Program Coordinator, Celeste Carey, recommends a Good Neighbor Agreement be negotiated between the Neighborhood Association and the owner to proactively address community concerns.
The proposed hours of operation are Sun – Sat – 8:00 am – 11:00 pm The license application incorrectly lists operating hours of 8:00 pm – 1:00 am. This issue should be clarified prior to approval of the license.
If you are aware of any existing problems or concerns at this location, please notify Theresa Marchetti at (503) 823-3092 by January 9, 2010. If you have concerns regarding this license, please list the concerns in writing and remember they must be related to crime, alcohol, alcohol related behavior or drugs. Traffic, parking and trash are not considered during the licensing process at OLCC.
If you have any questions, contact:
Dennis Paul LoGiudice
City of Portland | Office of Neighborhood Involvement
1221 SW 4th Avenue, Room 110
Portland, Oregon 97204
 Phone: (503) 865-2626
 Fax: (503) 823-3050
 Email: Dennis.LoGiudice@portlandoregon.gov
 Web: www.portlandonline.com/oni