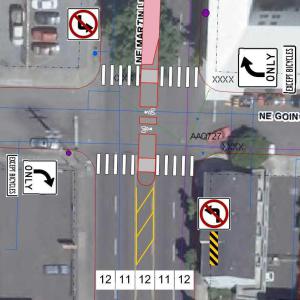 The Portland Bureau of Transportation is beginning work on Northeast Going Street at Northeast Martin Luther King Jr. Boulevard to construct intersection improvements for cyclists and pedestrians. The project will consist of extending the median barrier on Northeast Martin Luther King Jr. Boulevard and two striped crosswalks where there are higher traffic speeds and traffic volumes on Northeast Martin Luther King Jr. Boulevard and pedestrians and cyclists have difficulty crossing the
street. No parking removal is necessary to accommodate the median island on Northeast Martin Luther King Jr. Boulevard. In addition, auto traffic will be regulated to right turns at this intersection only.
The project is scheduled to start in late March dependent on weather and construction crew availability. Construction of the intersection improvements should be completed relatively quickly within about a week and a half. This location was identified as a location where cyclists and pedestrians may have trouble navigating and crossing the busy intersection. This improvement will shorten the distance pedestrians and cyclists are exposed to traffic and will increase the visibility of pedestrians and cyclists to motorists and to each other. Pedestrians and cyclists will be able to make a two stage crossing, with the benefit of a concrete refuge to wait for traffic to clear for a safer crossing. The project team has visited neighborhood associations after holding two initial public meetings to get feedback from neighborhood residents on North and Northeast Going Street so that feedback and neighborhood input could be incorporated into the proposal. Access will be maintained in the area during all construction phases. Some road access will be limited while work is occurring in the street but access will be maintained through the duration of the construction. No complete road closure is anticipated.
The Bureau of Transportation is sensitive to the use of this connection in the neighborhood and will endeavor to complete the work as quickly as possible to minimize the inconvenience these improvements may cause.