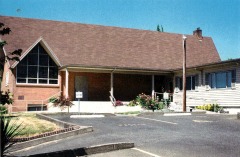 Join us on December 25 for dinner. Friends, community members, guests, travelers – all are welcome for an informal dinner and time of visiting friends and neighbors at Hughes Memorial United Methodist Church, 111 NE Failing St.
Our neighbors Michael and Matthew Little are hosting a Christmas Day potluck for all, from 11 am to 1 pm
If you have no family around, feel lonely, want some conversation , you are welcome to come and join the fun, or bring your family and come meet your neighbors!
We'll have a variety of foods to meet a a diversity of dietary needs. We thank our neighbors, New Seasons and others who have so graciously donated some wholesome food. Bring a dish to share or just come and enjoy!
Hope to see you there! Pets welcome