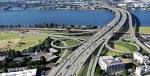 On Saturday, November 21st NECN will be hosting a Columbia River Crossing Impact Forum. We hope that each neighborhood can send at least 1 or 2 representatives, however all are welcome! We will hear from three students of the Sustainability Clinic at Willamette University College of Law about their research into the impacts the Columbia River Crossing project will have on the east side of Portland and the region as a whole. They will share research on health and environmental impacts as well as the laws that govern the project and how the process for the project moves forward.
During the forum we will also hear from Jeri Williams from the Office of Neighborhood Involvement (and former Executive Director of the Environmental Justice Action Group), on her involvement and advocacy on the various stages of this bridge expansion project. She can provide personal insights into how to get involved and what has worked and what has not.
Finally, we will have short, small group discussions to gain feedback from all of you on your concerns and suggestions for how we can all work to make sure that east side residents are best served by this project.
Here are the specifics:
What: NE Community Forum: Columbia River Crossing
When: Saturday, November 21st 10am – 12:30pm; 9:45am Coffee and Continental Breakfast
Where: Redeemer Lutheran Church, 5431 NE 20th Ave.
RSVP: By November 19th to Regina Williams at 503-823-4575 or admin@necoalition.org.
A flyer with the information is also attached. Please spread this information to your neighbors! The forum is open to all!