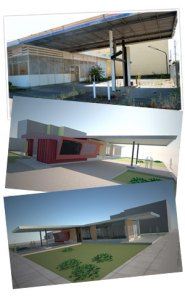 The Portland Development Commission (PDC) will have funds available in fiscal year 2011-12 for community livability projects in the Interstate Corridor Urban Renewal Area (ICURA). PDC's Community Livability Grant Program began in the Interstate Corridor URA in 2006 and expanded to the Lents Town Center URA in 2010. The program has awarded nearly $2 million to more than three dozen projects that improve livability for residents and enhance the unique nature of the Interstate Corridor and Lents Town Center neighborhoods.
For the Interstate Corridor URA Map, click here.
Up to $300,000 in Community Livability grants will be awarded in the coming fiscal year in each of the two urban renewal areas. Eligible applicants include nonprofit organizations, neighborhood and business associations and neighborhood groups.
Individuals or groups interested in submitting an application are strongly encouraged to learn more about project eligibility, completing the application, and the evaluation and selection process by attending an information workshop. For ICURA: Thursday, April 7, 11 a.m. to 1 p.m., Legacy Emanuel Hospital, 2801 N. Gantenbien, Room 1075 in the East Wing.
The grants support a wide variety of community benefits: historic preservation, open spaces and gardens, community and cultural centers, social services, jobs training, and the growth of local businesses. The work is not always visible, but investment supports each organization's ability to benefit the community.
Grant applications are due to PDC by Monday, May 10 at 5 p.m. Applications will be reviewed by Community Livability Committees for each urban renewal area, which will make recommendations back to PDC. Decisions will be announced by Thursday, June 30, and projects can begin as soon as the grantees have formalized a Letter of Agreement with PDC.
Since 2006, PDC has awarded approximately $1.8 million in Community Livability Grants, ranging from $5,000 to more than $100,000. Projects receiving awards have included:
• Green/energy efficient upgrades to a historic building
• Preservation of historic assets: Kenton's Paul Bunyan statue; Historic Columbian Cemetery
• Improvements to small community open space and community fruit garden
• Added outdoor performance space
• Exterior improvements to a music center
• A wheelchair ramp for a community medical center
• New shade trees and benches at Humboldt School
• Heating, electrical upgrade, and doors for a new art center in Kenton
• Exterior building improvements for a community center in Boise
• A new furnace and energy efficient improvements for a child care center
• Historic building improvements, including acoustic upgrades, new solar power and sustainable storm water runoff
Details about the grant program, highlights of two recent projects and a downloadable application are available at: www.pdc.us/clg, or contact Susan Kuhn at kuhns@pdc.us; 503-823-3406 (Interstate Corridor URA).