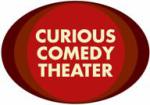 This week at Curious Comedy:
Friday and Saturday
Closing weekend of Jean Louis in Communicatos. Don't miss this incredibly funny and smart show about the hardships in communication. Starring Curious Comedy co-founders Stacey Hallal and Bob Ladewig and featuring a special long form improvised set by the Curious Comedy Playas. Doors 7:30, Show 8:00. $12 advance, $15 door, or just $10 for YOU. That's right, simply type "loyalty" into the coupon box at the checkout online, or say the word "loyalty" at the door and get your tickets for only $10!

Sunday
Come on out and watch some of Portland's best up and coming comedians at the Curious Comedy Open Mic. Hosted by the always funny Virginia Jones. Come get on the list at 8:30, or just come to watch the show at 9:00. Admission is FREE and there's also a full bar with delicious food.
Also coming up is our Spring Term of classes. If you are interested in taking classes on Improv, Sketch, Stand-Up, or Public Speaking, look no further. The Curious Comedy Academy offers the best instruction in Portland with teachers who have been educated at such renowned theaters as Second City and iO Chicago. Register by 2/24 for a $20 discount. Check out the website for more details.
Keep an eye on our website for more upcoming and exciting shows including an improvised musical and the return of a Curious Comedy favorite, Fit to Print, where our Curious Comedy Playas improvise based on headlines that YOU cut out of the paper, and much much more.
We hope to see you very soon!