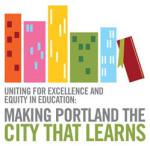 The 2010 Education Summit announced both national and regional keynote speakers for the first annual event: Special Assistant to the U.S. Secretary of Education, Greg Darnieder, and 2008 National Teacher of the Year Michael Geisen. The announcement follows a year-long, regional effort led by Mayor Adams and former County Chair Ted Wheeler to create a vehicle for ongoing discussion about education in the Portland region.
Education is vital to our goal of becoming the most sustainable city in the world. The only way we will achieve this goal is through partnership and collaboration. We want Portland to be known not just as the 'greenest' city in America, but the most educated.
The Summit will take shape in two formats, a Town Hall dialogue on April 10th and a Leadership Summit on April 12th. The Town Hall serves to engage the community in a meaningful conversation about how we as a community can ensure all students have access to resources that help them graduate high school on time and go on to post-secondary education. Resources for youth and families will be available as well as snacks and child care.
COMMUNITY TOWN HALL
Keynote Speaker: Michael Geisen
Saturday, April 10th, 1:00 p.m. to 3:00 p.m.
FREE and open to the public
Location: Parkrose High School
LEADERSHIP SUMMIT
Keynote Speaker: Greg Darnieder
Monday, April 12th, 8:00 a.m. to 1:00 p.m.
$10 Registration fee before March 22nd. Tickets purchased after March 22nd are $15.
Click to purchase tickets
Location: Oregon Convention Center
"We cannot call our schools excellent until there is excellence for every student," said Dan Ryan, CEO of the Portland Schools Foundation. "The issue of equity in our schools needs Portland's best thinking and the summit is an opportunity to re-focus our attention on equity and excellence for all students–our kids deserve that."
The Leadership Summit aims to build on the existing work of the Education Cabinet, bringing together top minds in education, including elected officials, school district leaders and business leaders for the opportunity to dig into compelling data about how our community is supporting young people and where we are falling short. This is a time to share and commit to collective action toward securing a more promising future for our youth.
"We must do all that we can to improve the high school graduation rate to ensure the future workforce is qualified for careers in our local economy, said Worksystems Inc. Executive Director Andrew McGough. "The whole region has a stake in this and the Education Summit will provide an important opportunity for thought leaders to look closely at this issue."
To watch the Education Summit video, please click here.
The 2010 Education Summit is sponsored by the City of Portland, Multnomah County, Worksystems Inc., and The Portland Schools Foundation.