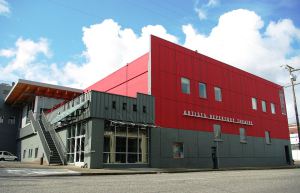 Opening March 6, Artists Rep presents David Mamet's RACE, a provocative look at discrimination, bigotry, and how we tackle, or avoid, the issues of race in our lives.
Artists Rep, in partnership with the August Wilson Red Door Project, is proud to host a forum on race and how our society, and legal system, are affected by racial issues. Artists Repertory Theatre is sincerely interested in deepening its connection and commitment to the Portland community and facilitating conversations that foster understanding, growth, and compassion. We hope you will join the dialogue.
Forum: Race, Society, and the Law
Racial injustice is one of America's greatest disgraces. Acknowledging one's own bigotry, and the institutionalized bigotry of our society, is uncomfortable, at best.  On Sunday, March 25 at 6pm, join Artists Rep in discussing how racial issues affect our society and the Portland community. The panel will be moderated by August Wilson Red Door Project co-founder Lesli Mones and include the Honorable Donald Letourneau, Lewis & Clark Law School professor John Parry, ACLU of Oregon board member Fred Neal, and The Skanner news editor Lisa Loving.
We hope that, together, we can shine a light on the anger, guilt, and shame of discrimination that lies beyond polite social convention.
What: RACE Forum: Race, Society, and the Law
When: Sunday, March 25 @ 6pm
Where: Artists Repertory Theatre
Additionally, there is a guest speaker coming to the theatre on Monday, March 26.
August Wilson Red Door Project Speaker Event: Walidah Imarisha
Monday, March 26 @ 7pm in the Morrison Theatre
Free and open to the public
The August Wilson Red Door Project is proud to host an evening with writer/artist/lecturer Walidah Imarisha.
Walidah Imarisha taught in Portland State University's Black studies department, where she created classes about the history of the Black Panther Party, race and the history of prisons, Hurricane Katrina, and hip hop as literature. She has facilitated writing workshops for schools, community centers, youth detention facilities, and women's prisons. Imarisha was a founding editor of AWOL, a national political hip hop magazine and toured as part of the poetry duo Good Sista/Bad Sista. She has been featured on several hip hop CDs and filmed and codirected Finding Common Ground in New Orleans, a documentary about Hurricane Katrina's aftermath.
Play Synopsis *please note there is strong language in the synopsis, as well as in the play*
Charles Strickland, an affluent white man, is accused of raping a young, black woman in a hotel room. After leaving his previous attorney, Strickland seeks legal representation from Henry, a middle-aged, black man, and Jack, a middle-aged, white man. The lawyers send Strickland into the waiting room to chronicle his every misdeed, giving them the opportunity to discuss the merits of the case and wonder why Strickland's first lawyer let the case go. In the meantime, they ask their assistant Susan, a young, black woman, to obtain a copy of the indictment. The partners finally get in touch with Strickland's lawyer, who tells them that two witnesses (a white preacher and his wife) have come forward. They heard Strickland say, "I'm going to fuck you now,  you little nigger bitch." That seals it. The partners will not take the case.
Unfortunately, Susan returns with both the indictment papers and a check from Strickland. Henry is incensed by this misstep. If she took the check and issued a receipt, they would be obligated to defend the man. As there was no receipt issued, it seems they dodged a bullet, until Susan tells them that she actually obtained the indictment from the District Attorney's office directly, having the firm listed as the attorneys of record.
As Henry rages over this "mistake," Jack has an inspiration. He realizes that a crucial piece of evidence appears to be missing from the crime scene report—the woman was wearing a sequined dress but no sequins were mentioned as being scattered around the room. There's no way the room would be clean if he had ripped the dress off of her, as the woman claims. With this ace in the hole, Jack decides that they'll stage a reenactment in court, asking Susan to be the model. She is offended by the suggestion. This sparks a confrontation between the two. Susan gets Jack to admit he undertook an extensive investigation of her before he hired her. Jack admits it was to cover himself should she ever get terminated and want to file a discrimination suit.
They have another problem, however. Henry has found a new piece of evidence—a postcard Strickland sent his black roommate in college, comparing the Caribbean night to "being in some hot, black cunt." Strickland is stunned that his roommate and friend would have kept that card, or even been offended by it. As Henry lays out how a black man may have felt by reading Strickland's words, more bad news arrives. The chambermaid has amended her statement, remembering the sequins. This strikes Jack as oddly convenient, and he's convinced Susan has sold them out and told the prosecutors their defense strategy.
Susan admits that she thought Strickland was guilty from the minute he entered the office. As she and Jack hash over their perspectives on Strickland and duplicity, Henry gets a call. One of the officers on the scene found a missing page from his report noting the sequins, and moreover, Strickland has confessed. Jack and Henry are left unsure if Susan betrayed them or if it even matters.
For single or group tickets to the show, contact the box office at www.artistsrep.org/tickets/ or 503-241-1278.
Groups of 10 or more receive a 20% discount off the regular price of tickets.