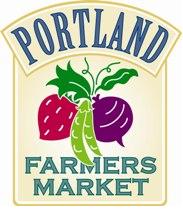 From Portland Farmers Market:
Spring is slowly but surely coming, and with it comes the reopening of the popular King Portland Farmers Market! Our opening day for 2011 is Sunday, May 1 at 10 AM. New vendors for 2011 include:
• Eatin' Alive, a bicycle powered mobile vending station that believes in harnessing raw energy in both transport and cooking. A Portland company, they use all organic, locally grown produce to create seasonal, freshly prepared raw snacks such as: seed and nut pates, wild crafted pesto, garden wraps, a variety of prepared salads, and delicious sweet treats.
• Good Natured Gardens, a small, family run vegetable and herb farm located on Sauvie Island that grows a wide verity of heirloom produce and seedlings using organic methods to insure the highest quality.
• KCK Farms, is a family owned and operated nursery in the heart of the Willamette Valley of Oregon offering fresh cut peonies, bare root, containerized trees and perennials.
• Trailhead Coffee Roasters, the bike-based Portland coffee roaster featuring coffees produced by women farmers and served from Trailhead's rolling bike cafe.

King Portland Farmers Market is located at NE 7th & Wygant between NE Alberta & NE Prescott — in the parking lot adjacent to King Elementary School. It is open every Sunday from May 1-October 30, 10 AM-2 PM.

2011 King Market classes and activities:
In addition to shopping for farm-fresh produce, baked goods, meats, cheeses, seafood and other specialty foods, there is lots going on each Sunday! Here's a taste of what market-goers can find at King Market:
• Get Growing: every Sunday in May. A hosted booth will be open from 10:00 AM to 2:00 PM where shoppers can bring plant starts (purchased from market vendors) to have them potted into container gardens free of charge.
• Bite Size Kids Cook at the Market: the last Sunday of each month (May 29, June 26, July 31, August 28, September 25). Kids can cultivate their culinary skills and experience a cornucopia of farm-fresh foods though these free drop-in classes. Each month will center on a featured ingredient: radishes (May); greens (June); berries (July); summer squash (August); and tomatoes (September).
Fresh Exchange
Fresh Exchange (formerly called Northeast Foodshare Fund) is back at King Market for the 2011 season. Fresh Exchange increases access to farm-direct fresh fruits and vegetables for Supplemental Nutrition Assistance Program (SNAP) participants while supporting local food producers. It provides a dollar-to-dollar match (up to $5) for all SNAP funds redeemed at the King Market. In the 2010, this program distributed more than $20,000 to neighbors in need.