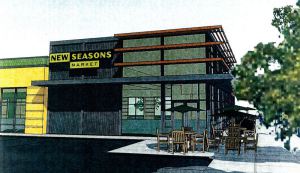 Discussion of parking, traffic and design issues of the next New Seasons store to be built just outside of King in the Eliot neighborhood was a main topic at the last Northeast Coalition of Neighborhoods land use and transportation committee meeting. Also discussed: the Urban Food Zoning Code, Portland Plan, and Columbia River Crossing. Read the discussion via the draft February minutes below or on the NECN Website:
Northeast Coalition of Neighborhoods
Land Use and Transportation Committee
Wednesday, February 22, 2012, 7:00pm
Northeast Coalition of Neighborhoods Office
DRAFT MINUTES

Present
George Bruender, Concordia/Co-Chair
David Sweet, Sabin/Co-Chair
Chenoa Philabaum, New Seasons Market
Roger Collins, Ivy Street Properties
Brendan Lawrence, Ivy Street Properties
Kara Boden, Irvington
Jason Barnstead-Long, at-large
Don Forrest, New Seasons Market
Carol Gossett, Sullivan's Gulch
Steve Cole, Irvington
Anjala Ehelebe, Woodlawn
James Weter, Boise
Caleb Herranbruck, New Seasons Market
Nora Diver, King
Jim Brown, Alameda
Paul Anthony, Humboldt
Peter O'Neil, Irvington
Debbie Bischoff, Bureau of Planning and Sustainability
Julia Gisler, Bureau of Planning and Sustainability
Allan Rudwick, Eliot
Ted Buehler, Boise
Brad Perkins, Irvington
Shoshana Cohen, NECN staff
Benjamin Adrian, NECN staff
Introductions
Additions to Agenda
George would like to mention the Transportation survey that staff had mentioned via email.
Jim Brown, Alameda, had brought up Bioswales and his work with the City was positive in nature, he'd like that reflected in the minutes.
Anjala points out a typo in the January minutes.
David motions to approve both agenda and minutes as amended, and the motion is approved.
New Seasons Market-N Ivy Street Proposal
Roger Collins is the owner of former Interstate baking site. Roger works with New Seasons Market as the site owner. He is responsible for building the structure, but not the operation. Building will border Fremont, with parking on the south side. Ivy Street was vacated here several decades ago, but with this proposal would be somewhat brought back, and developed to Portland's "festival" standards, which is primarily for pedestrian use. Store proposal is 30,000 square feet.
Festival street? An example is in Old Town/Chinatown area. Less rigid than a normal street, can be closed down for farmers markets and other events.
Proposed store is similar to Arbor Lodge and Concordia store size. Two parking spaces per 1,000 square feet as a guideline. Also, 61 bike parking stalls, with a loading dock for all unloading activity to be contained on-site, and not using the street at all.
Where will the bike parking be? Mostly on the Williams street side, along sidewalk, near entry points to store. Smaller number of bike racks may be on Vancouver side.
Could this number be increased? Most likely not, not much more room.
Bicycle counts? How many bikers go by in an hour? New cycling numbers?
The parking lot has bioswales and landscaping. Total lot is about 57,000 square feet. 60 car stalls right now, 61 bike stalls, some of which are larger than normal to accommodate cargo bikes.
New Seasons Market representatives stress this is early on in the planning process, but hoping to break ground in September 2012.
Have you considered trying to gain access to the parking lot kiddy corner, to the southwest, at the Red Cross? Not yet.
Transportation study has been issued for bids.
System Development Charges- not exact yet, but something up to 400,000 dollars.
Twenty feet of sidewalk facing Williams to help accommodate bike parking. Twelve feet sidewalks facing parking lot and Fremont Streets, with nearly twenty feet on Vancouver side.
Trying to handle all storm water on site with bioswales in parking lot and a cistern on roof to capture that water. Early studies show this to be feasible.
Noise from cooling equipment, or other noises? The proposal is to have a "sound screen" on the roof, which would house this type of equipment. NSM does have plans to invest in sound-reducing refrigeration equipment, featuring large fans that can spin slower and therefore emit less noise.
A "green screen" will be on several of the sidewalks.
Possibility of on street parking on Williams, depending on future striping decisions for travel lanes.
Use of rooftop? For bike parking? Several issues with this, accessibility, impact on store footprint, more.
Boise neighborhood has a height question: along N Williams several projects are being proposed at 4-6 stories, why is this building a single-story structure?
Street front of Fremont? Is this frontage the most accessible it could be?
One entrance will be near Fremont and Williams, but the store needs a "backside" and it needs to be oriented somewhere, options are limited. More parking would impact the store size.
Local hiring? NSM does conduct a job fair in the neighborhood prior to the store opening, 150-200 people anticipated.
NSM mentions their store support (headquarters) is in the neighborhood- off of Flint.
Again, why not a 5-story building?
Answer: the economics behind the building really start to change. Ivy Street developers mention the plan is to begin moving forward with this project, and have a higher density project on the south-side of lot, meaning south of the proposed festival portion of N Ivy Street. The idea is to have this project be more residential in nature.
Solar power on the roof? NSM is considering alternative power sources for the roof. Machine equipment will be on the roof, as well as sun windows and skylights.
Local hiring for construction jobs? Ivy Street hires local, but specific subcontractors for this project have not been determined yet.
Again, more density? The economic factors limit.
Other opportunities for public engagement? Yes, NSM is dedicated to more.
Julia Gisler- Urban Food Zoning Code Update
Julia gives a rundown of the project, and brought us up to speed from her last visit to LUTC. The project has identified five target areas: Market gardens, community gardens, farmers markets, food membership distribution sites or 'food buying clubs,' and lastly, addressing regulations on animals and bees.
Since last summer, when LUTC heard from Julia, the project has moved forward.
Have heard quite a bit of public comment on food, but have had more tepid response regarding neighborhood impacts.
Market Gardens- you can grow produce and then sell it. Could be selling to something like a CSA, or selling to a restaurant, or even just on-site general sales. A market garden up to 10,000 sf in a typical residential zone (R5 zone) will be allowed by right. Existing code doesn't allow for this size of garden.
A Community Garden is allowed anywhere, under existing code. The difference from the above market garden is that you cannot conduct sales from a Community Garden.
Food Buying Club Distribution sites- the food buying club, which is a group purchasing food, would bring food to a house for the members to collect. Unlike a CSA, there is more flexibility in the structure of this. Usually, these are an accessory use to a site, not a primary use.
In the proposal Julia distributed, page 45-47, standards for food buying clubs.
New proposal- neighborhood notification and meeting requirements.
Insurance requirements? No, insurance is outside the purview of the zoning code.
Parking requirements? Yes, this is a consideration. Some interest in limiting the impact of these sites, however, the way the food buying clubs are structured, it seems as though the intensity is somewhat distributed. Club sites with high numbers of trips do have restrictions on how far they can be located away from a busier arterial street.
What if there is a negative impact after a club is up and running? Is there a mechanism to address the problem? Good question.
Parking seems tighter near larger streets, with more available farther away. It would seem the code should reflect this? Julia responds that the clubs she has talked with consider this when choosing a location, and often adjust their distribution sites accordingly as members are well aware of parking problems.
Julia asks that we please comment- you can do so online at www.portlandonline.com/bps/foodcode
April 24th is a Planning and Sustainability Commission hearing, and Julia says a letter to the Commission would be a big help for the project.
Bees, concern over proper neighborhood notification, so looking at new system.
Comprehensive Plan – Debbie Bischoff
Quick update on The Portland Plan- a so-called redline version is through Planning and Sustainability Commission, and should be published next week.
Comprehensive Plan: This Citywide policy document needs to be updated as it hasn't been since 1980. This document will guide the development of the City over the next 25 years.
It is informed by the Portland Plan, as well as Vision PDX.
Due to staffing issues, this Comprehensive Plan Update is the minimum required by State law. Debbie cautions that it is not the full neighborhood-level update of zoning code. However, the planning of the City will not be done when this Update process is complete, but will have subsequent opportunities for more work to be done.
Several working groups to advise on this process will be formed shortly. Networks and transportation, watershed health, public involvement, maybe more.
Five topic areas on design compatibility and infill, one in particular, transition zones- commercial areas transition to residential areas.
These working groups are still being hashed out, and questions remain as to what type of representation will be available to NECN.
Debbie asks if additional density on vacant lots in Albina plan area is an issue? Also, is corner lot development an issue? Duplexes on corner lots?
Potentially, zoning code changes will be addressed, but most likely in an implementation phase later on, in a "refinement process."
The vacant lot question- it says that within the Albina Plan area, a special provision had been placed in the code to allow more density for housing on vacant lots, basically putting two lots in an R5 area.
Debbie gives a couple of details- the Albina Community Plan will not be redone. It is not yet clear if community level or neighborhood specific planning will be done or updated. Parts of the City have never had neighborhood level planning efforts, so having NECN-area plans updated may be a lower priority.
Funding question for neighborhood level planning? Can neighborhoods find funding on their own to do this? Or will funds be available for City staff to work on this? Debbie is trying to work for this, but right now is not budgeted.
Will the N/NE Quadrant project combine with the Comprehensive Plan update? Most likely, but Debbie suggests checking with N/NE Quadrant staff.
Columbia River Crossing update
NECN staff and CRC leaders have met with Coalition for a Livable Future, with more meetings scheduled to develop an outreach strategy to build support. One current idea is to develop a speaker's bureau- with a presentation and train volunteer presenters to speak to other groups.
George mentions that the idea is to get neighborhood associations to become more active in opposing the CRC.
Jason mentions seeing an advertisement on the side of a bus for the CRC, where is the other side?
Discussion of what this presentation will look like? Just opposition or will we be suggesting alternatives? Primarily pointing out why the existing proposal does not meet the needs or goals the project backers are suggesting, and also, to a lesser extent, to say other options do exist and deserve study.
Brad mentions the Smarter Bridge Coalition and suggests we should have the groups meet to combine messaging.
Neighborhood Announcements
NE Broadway meeting- Shoshana reports Irvington, Lloyd District, other neighborhoods have met, with a goal to address the corridor from the Broadway Bridge to Hollywood. This was an initial stakeholder meeting, only preliminary, and is drafting a letter to lay out more details about who and what will be in the scope of the project. Alan asks to have future meetings not overlap the Eliot meetings, staff will try.
N Williams Traffic Safety Operations Project- Alan Rudwick and Paul Anthony
The City has released the options- three build options and a no-build option. The SAC is supposed to make a recommendation in a couple of weeks.
What was the feeling of the options? Initial reactions were limited, no straw pole conducted yet. Alan's sense is a one-lane option is preferred. Which side of Williams would the cycle track go on? Potential conflicts at curb cuts and streets, so is one side better? One big issue is bus stops on the right.
Steve thinks safety is a priority to NECN and it is in our interest to see improvements implemented on N Williams. His preference isn't for a particular option, but for something to be done. The no-build option is not of interest to NECN.
Is the SAC talking about other issues still? This process has had so much more discussed than just restriping the lanes, but that doesn't seem reflected in these proposals. Some members of the SAC are talking about other options, but not officially as an SAC.
Will the recommendations be going to City Council? Likely yes, which would allow for more time for consideration and weighing in.
David has a few concerns about LUTC jumping in right now, as the Committee has not heard a presentation on the proposed options. The SAC has jumped around a lot, and considered so much, that to jump in right now may be disrespectful of that process.
Will land-use impacts be considered in this traffic safety process? Such as the New Seasons Market? Those are site-specific traffic studies, not the corridor transportation needs.
Steve reiterates that NECN writes letters frequently and the pressing issue of safety on N Williams needs to be addressed, this letter can still be supportive of the SAC process.
Motion to approve a letter advocating for the safety of all parties involved on N Williams, recognizing the public process that has already been conducted. Motion is seconded.
Nine in favor, zero against, and three abstentions.
Steve, Ted and Peter will draft this letter for the NECN Board.
NECN Transportation Survey
George asks the committee to assess what transportation issues exist in your own neighborhood, such as pedestrian crossing, curbs, unpaved streets.
Other announcements:
Brad Perkins suggests working for economic development issues and asking for money through organizations such as NECN.
Portland Playhouse Land Use Appeal- King neighborhood is appealing; NECN Board of Directors has approved testimony supporting the Appeal. Hearing is March 1st at City Council.