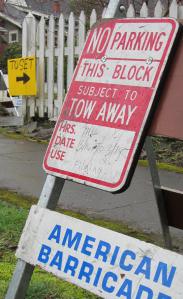 NBC Universal is filming a TV pilot in Portland titled "Grimm". It is a police drama with a sci-fi bent based on Grimm's Fairy Tales. The main character "Nick" and his wife "Julia" live in the neighborhood. His aunt arrives with her Airstream trailer and parks it in his backyard. Unknown to him she is a supernatural crime fighter and he is about to inherit her gift. There is an altercation in front of their house and he shoots a ghoul who is trying to attack his aunt.
There will be some street closures and parking restrictions connected with the filming:
Parking:
Barricades will be placed indicating spaces and hours of restricted parking. In at anytime they do not need to continue reserving the parking in various areas, they will remove barricades. If they plan on blocking a driveway, they will contact the owner for permission first.
The barricades will read: ALL HOURS because they will be working day and night. The listed EXPECTED HOURS are the hours they will be in operation:
3/16: 1:00 pm to 1:00 am
3/17: 5:30 pm to 5:30 am
3/18: 5:30 pm to 5:30 am
The barricades will be placed on:
Both sides of NE Going, 7th to 9th
South side of NE Prescott, 7th to 9th
Both sides of NE 8th, Prescott to Going
West side of NE 9th, Prescott to Going
East side of NE 7th, Going to Wygant.
3/16, 3/17
• Crews will arrive around 12 pm and film a driving sequence along NE Prescott and 8th. Portland Police and flaggers will temporarily hold traffic on NE Prescott between NE 7th and 9th and on 8th between Going and Skidmore.
• Upon finishing with the daytime driving, they will move to inside filming.
3/18 from 5:30pm to 5:30 am
• Police will close NE Prescott between NE 7th and NE 9th Avenue during non-rush times into the early morning hours. In this scene there will be GUNFIRE. The gunfire is in one scene and will take about one hour to complete. Residents will be allowed in and out of this closed street but it will be closed to through traffic.