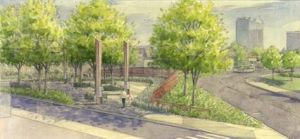 The PDC will hold a meeting Thursday, April 21st at Irvington Village, 420 NE Mason St. The advisory committee and neighborhood land use chairs will be updated on the Martin Luther King, Jr. Blvd. Gateway and Heritage Markers Project. They are in the final phases of the project; it is currently in the permitting process and the design team is preparing drawings for bidding. Construction will begin this summer. They will be soliciting input from the representatives on a quotation that has recently been added to Project on the screen walls.
Background
The Martin Luther King, Jr. Boulevard Gateway and Heritage Makers project originated in community planning efforts begun over a decade ago by area residences and business owners. In the 2007- 2008 planning process, the 12-person Stakeholder Advisory Group further delineated the project in a Concept Master Plan with three goals:
• Create a clear threshold announcing the arrival into a unique neighborhood district
• Preserve, interpret and celebrate the diverse history of the area's cultural community
• Focus the Heritage Markers on local neighborhood stories
This group guided the design work until the project slowed down while PDC determined how the project would be maintained. Metro has now agreed to maintain the project, so the project is ready to move into construction.
The final design includes two curvilinear screen walls that define this intersection as a gateway in and out of the N/NE neighborhood and business district. A small plaza provides pedestrian open space for the neighborhood. Pedestrian access to the plaza is from the blocks to the north and east. Four, twenty foot high Heritage Markers, are located in the plaza each with interpretive panels celebrating the diverse communities that have contributed to the North/Northeast neighborhoods.
During the 2007-2008 planning process quotations from Dr. Martin Luther King, Jr. were discussed. The design team would like to get feedback on a quotation from Dr. King that was added to the two curvilinear screen walls to accentuate the Gateway into and out of this unique and diverse neighborhood district. They would like to provide an update of the project and get feedback at the meeting on April 21st.
For additional information please contact Irene Bowers 503 823-2419 or Kathryn Krygier 503 281-0202
Here's a listing of the markers to be installed and what they signify: http://www.pdc.us/pdf/ura/convention_center/mlk/MLK-Neighborhood-People-Places.pdf