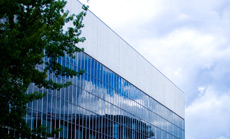 PDC and the City of Portland are in the midst of a public process to determine the future of the Memorial Coliseum. Over 95 concepts were submitted through an online application process. Several options will be considered by the Rose Quarter Stakeholder Advisory Committee (RQ SAC) during the month of February. The SAC will issue a recommendation to the City Council on proposals to further investigate through a Request for Proposals process.
To visit the project website: www.RoseQuarterDevelopment.org.
To visit websites developed for proposed concepts, and to view the full range of concepts go to the following site: http://rosequarterdevelopment.org/Concept_Summaries.php
The next RQ SAC meeting is scheduled for Tuesday, February 9th at 5:00 pm at the Portland Development Commission (222 NW 5th Avenue). Please feel welcome to attend to hear the discussion and to provide input during the public comment period. Please contact Kevin Brake with any questions or concerns.
KEVIN M. BRAKE
Senior Project / Program Coordinator
PORTLAND DEVELOPMENT COMMISSION
503.823.3351 (office)
503.865.3797 (fax)