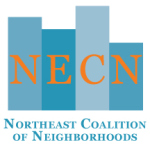 Historical Perspective for Today's Understanding: Economic Development in N/NE Portland
Economic Development Speaker Series Kick-Off Event
Tuesday, November 1, 2011 6:00pm to 8:00pm
The NECN Community Economic Development Council's Inaugural Speaker Series Event
Curious Comedy, 5225 NE MLK Blvd, Portland, OR 97211
*FREE*
The Northeast Coalition of Neighborhoods (NECN) invites the community to a panel discussion and Q & A about the history of economic development in inner N/NE Portland with an eye cast toward discovering future economic development opportunities. The panel will feature:
Carl Talton – Past Co-Chair of the N/NE Economic Development Alliance
Dr. Karen Gibson – PSU Associate Professor, Toulan School of Urban Studies and Planning
Paul Knauls Sr – Owner, Geneva's Shear Perfection Barber and Beauty Salon
Join us to hear three different perspectives on past economic development activities, their impacts and key learnings for our future. Carl Talton, a community leader with years of experience, will share his perspectives from work with city agencies such as the Portland Development Commission and leadership at the North/Northeast Economic Development Alliance with Sheila Holden. Author of Bleeding Albina, Dr. Karen Gibson will share an academic perspective as a researcher of the political economy of neighborhood change in Portland's historic black community, the Albina District. A community leader, Paul Knauls Sr., will bring his first person account as a business owner experiencing the impacts of various business and economic development programs throughout the years.
Each speaker brings a unique perspective on community economic development and has strong connections with Portland's historic inner N/NE neighborhoods and communities including the African-American community. This first event of a series is a must for newcomers and longtime community members alike.
Refreshments donated by Bridges Café & Catering, Horn of Africa and Elevated Coffee
RSVP requested, 503.823.4575 or info@necoalition.org The Northeast Coalition of Neighborhoods' (NECN) newest permanent committee, the Community Economic Development Council (CEDC), is proud to present this inaugural event. The CEDC looks at a range of local needs for jobs, asset creation, economic generators, small business supports and place and community-based investments. The committee works to gather information, provide education, advocate for solutions and incubate projects. For anyone who cannot attend this event but would like to participate in the Community Economic Development Council, please join us for meetings on the third Thursdays of the month at 8am at NECN offices. The public is welcome.
NECN – Founded in 1975, the Northeast Coalition of Neighborhoods is a dynamic 501c3 nonprofit organization comprised of 12 culturally diverse and vibrant inner North and Northeast Portland Neighborhoods and their Associations. Dedicated to highly inclusive civic engagement, we operate community programs and fulfill numerous functions: gathering place, information and referral, idea and project incubator, training and technical assistance, forums and issue advocacy, and outreach service provider connecting community members to resources from agencies and organizations. Our 12 neighborhoods are: Alameda, Boise, Concordia, Eliot, Grant Park, Humbolt, Irvington, King, Sabin, Sullivan's Gulch, Vernon and Woodlawn.
Donations to support our Council and our work in the community are always appreciated. Online donations may be made at necoalition.org. Checks may be made out to NECN and sent to NECN 4815 NE 7th Ave. Portland, OR 97211.
For further information about our community committees and programs, please contact Shoshana Cohen at 503-823-4570 and shoshana@necoalition.org. For the latest information on all Northeast Coalition activities, please visit www.necoalition.org.