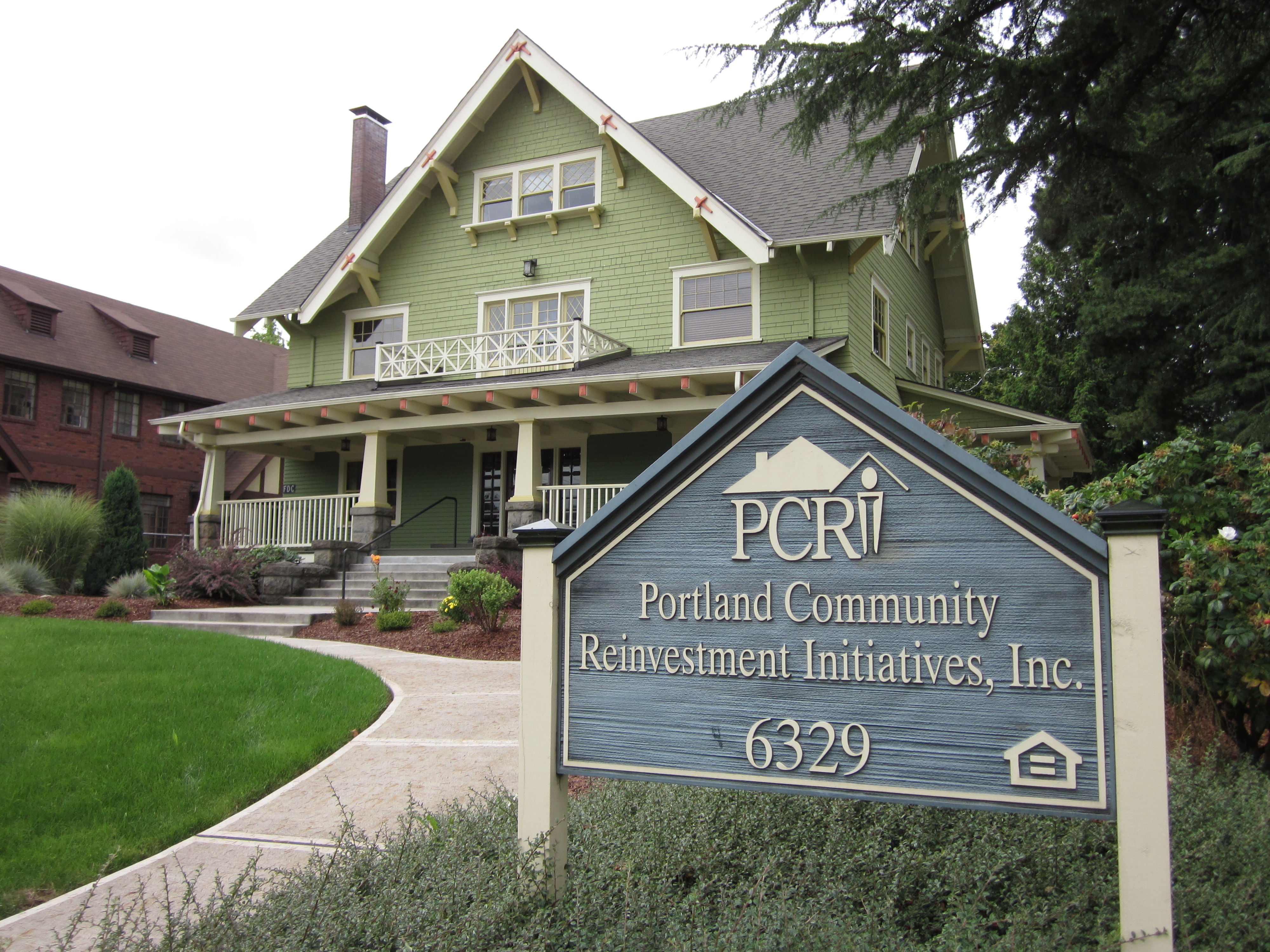 If you live in Northeast Portland, chances are that Portland Community Reinvestment Initiatives is one of your neighbors. As one of the largest community development corporations in North and Northeast Portland with 700 rental houses and apartments, PCRI helps define what our neighborhood is like.
The non-profit organization was born from the housing discrimination scandals of the '60's through the '80's such as redlining and the abandonment of the area by traditional lenders culminating in the Dominion Capital case where aspiring homeowners were being bilked with excessive interest rates and contracts designed to prevent the accumulation equity. PCRI executive director, Maxine Fitzpatrick sat down with me to discuss PCRI's mission, operations, and recent incidents at one of their complexes. Ms. Fitzpatrick explained how PCRI set out to keep housing in the long-term, mostly minority residents' hands and slow the wave of displacement taking place due to gentrification:
"The Oregonian did the exposé that exposed Dominion Capital and their fraudulent practices. After that exposé they filed for bankruptcy so rather than let those 350 families that were living in those properties be displaced and the properties picked up by speculators, they formed PCRI to purchase the homes. At the time about 70 of those properties still had an active land sale contract so our goal was to work with those families to make them legitimate owners and keep the other 272 as affordable rentals because that's what they were at the time. So that's how we were formed—to purchase that portfolio."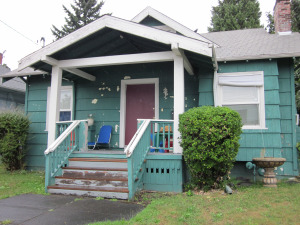 King neighborhood, once overwhelmingly African-American and mostly poor by the late '80's, is now much more diverse ethnically, economically, and culturally. With diversity, often comes strain and misunderstanding. While residents generally value the improvements in the housing that has come with the influx of new, younger, residents fixing up older homes, community development corporations strive to provide the most housing for the very limited available dollars. Standards for housing construction, maintenance and upkeep, as well as resident screening and oversight are set by the CDC which has a primary mission to provide housing for the surplus of those who cannot afford market rate options. As a result, homeowners and subsidized housing residents' dreams of living in safe and peaceful neighborhoods sometime intersect with the jarring realities of life.
Some residents on 10th Avenue have witnessed drug use and dealing by a PCRI resident, marijuana blunts and baggies in the street, loud parties late at night and fights in the street due to residents or visitors over a period of over two years. Three separate units in one complex were the sources of these complaints. Ms. Fitzpatrick seemed to be unaware of a pattern of problems at this location:
"This is only the second time that we've had a situation where residents are complaining about tenants. It's not that common."
Email records show that Ms. Fitzpatrick, and other PCRI staff were contacted regarding eight incidents regarding drug dealing, fights outside and loud parties late at night during that time. PCRI used a private property management company until mid 2009 and did not actively get involved with the complex's operation until then.
One such incident was the night of September 6th near the intersection of 10th and Alberta. A relative of a PCRI resident who is a regular visitor got in to a loud argument in the street with another woman. Police responded and the fight ceased for a time until it re-erupted later this time with several people involved beating each other with sticks. Before police responded again, someone fired several shots into the air. When they did arrive, the suspect was gone and one woman was found with her teeth knocked out.
In the wake of this incident, several neighbors contacted PCRI's Executive Director and members of the PCRI board including Chair Melvin Oden-Orr to urge action. Mr. Oden-Orr responded that PCRI was looking into the matter. But in an interview with this reporter on the 15th, Executive Director Maxine Fitzpatrick said that the incident did not seem to warrant a response from PCRI.
". . . When I finally got to reading what one of the residents stated and their message was different than what the police indicated when the staff talked to them. . . It was a different tone; it was a different set of circumstances; it was a different degree of violence. We see things differently; I understand that . . . so when the police reported out, it didn't seem . . . like 'it was a really, really horrible thing and you guys got to do something about it.' It was 'this happened and yeah, somebody did shoot a gun in the air and we're looking into it' and that's kind of it. From what I understand is that everyone who was involved in that wasn't even from the neighborhood. They didn't live there. They came from somewhere else."
However, the neighbor involved is a resident of another PCRI complex across the street. By Ms. Fitzpatrick's own admission, the ". . . lady whose daughter that the incident rose from at her house . . . her daughter came over and then her daughter got into it with the neighbor across the street and that's where the fight and everything erupted—it didn't erupt with the lady that lived there. It was her guest and the truth of the matter is: I'm responsible for the behavior of my guests. So she is definitely responsible for the behavior of her daughter."
In fact, the Portland Chronic Nuisance Property Code, (chapter 14B.60), states: "If your property is used repeatedly for a range of defined behaviors –including drug dealing, theft, harassment, assault, disorderly conduct and others – you may face closure of your property and other civil penalties for failing to take action to stop the problem."

When asked if PCRI could exclude non-residents, Ms. Fitzpatrick seemed uncertain: "I'm not sure if the law, which is what we have to follow, gives us the right to exclude a certain person from another person's home. I don't know if it does that or not."
Since mid-summer two of the units that were sources of neighbor concerns are now vacant. Ms. Fitzpatrick said that the resident accused of drug-dealing was not evicted, but left on his own. But since his moving out, he has been seen frequently in the neighborhood, driving his late model luxury SUV to the complex and even re-entering his old unit. Residents have witnessed him continuing to deal drugs on the street.
Aside from a few troublesome tenants, PCRI faces other troubles as well. It struggles to provide the housing capacity it was formed to provide. With an original portfolio acquired from the Dominion Capital bankruptcy, PCRI had about 70 home purchasers were in danger of losing their homes due to bad mortgage terms. PCRI worked to rewrite the loans so the families were not displaced. The remaining 272 homes were rentals when PCRI acquired them and PCRI kept them as affordable rentals. One hundred of those were vacant when Ms. Fitzpatrick was hired to run the organization.
After the city pressured several smaller CDC's to merge in the late '90's, PCRI resisted. Two others were merged to form Albina Community Development Corporation. After this CDC subsequently failed, its portfolio was acquired by PCRI, doubling its number of housing units to nearly 700. But as its portfolio has grown, its vacancy rate, the percentage of units unoccupied at a time, remains above average. In 2000 PCRI's vacancy rate was 2.5%; in 2004, 9%. Today it to 7% or 51 units. By comparison, REACH CDC Executive Director, Dee Walsh described their own vacancy rate of 3.5% as "a little high right now" compared to their usual 2%. Sabin CDC, a small housing provider in Northeast Portland with 46 rental units has three current vacancies or 6.5% and Rose CDC has a 2-3% vacancy rate.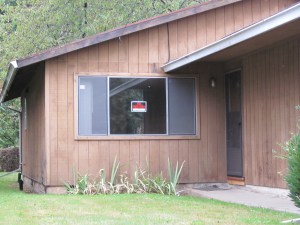 When asked about the length of vacancy, all of the CDC's reported the same time frame: from a couple of days to two weeks. PCRI however has units and houses that sit unoccupied for months to over a year. One such house, a little over two blocks from the complex at 10th and Alberta lost its last two families of renters after both complained about a lack of action by PCRI to maintenance requests. After the roof leaked to the point part of the ceiling collapsed, PCRI put a tarp on the roof but the leak continued and the family moved out. Since then the roof remains tarped and the house remains vacant a year later. Maxine Fitzpatrick said that PCRI is focusing its maintenance efforts on its occupied housing and acknowledged it has a backlog and federal subsidies require units stay occupied. In the meantime, PCRI is not compiling a waiting list for the non-project based housing and not actively seeking new renters for them. This leaves the organization in a Catch-22 scenario where the rental income needed to fund repairs is reduced; and more units and houses can't be rented out to fund repairs.
"So we had to take units that had been heavily subsidized through project-based and get those units taken care of before we can go through and do our own units that are not in any special program. It is a HUD program so you basically have to get those units turned and back on line . . . prior to taking over the ACDC portfolio, we didn't have any project based section eight units. All of our units were just regular affordable units. With that portfolio came some complexities that we didn't have in our initial portfolio."
With pressure to keep the new project based units on line, the maintenance staff is unable to keep pace with the original portfolio that was PCRI's foundation. The units at 10th and Alberta are not project based and two of the six units on the east side are vacant as well as one of three on the other side of 10th. Another resident is due to move out soon. Asked whether many repairs were needed, Ms. Fitzpatrick said: "They do need some work but not a lot . . . don't you think it's more important to take care of living conditions where people are actually living there? I think our efforts to keep the lawns cut, keep the houses from being messed up, being just really derelict looking are important. That's how we do that—we go in and take care of the people first then we go in and take care of the vacant units."
"—We don't allow graffiti."
Over the years since the complex was built in 1999, the grass in front of the units has been trampled away to leave bare dirt plots. Graffiti mars the mailbox. Ms. Fitzpatrick doesn't see much that needs attention: "if I go by there and look at that development, the thing that bothers me about it is I wish that we would power-wash the front of the house so that the dirt at the bottom of it gets clean. Other than that, it doesn't look that much different than the other properties in the area." When asked what PCRI's graffiti policy is, she said definitively, "Same as the city's policy—we don't allow graffiti." Though there is no indication the graffiti has been brought to PCRI's attention, PCRI property management does not appear to employ a proactive or frequent survey of its properties. Instead, PCRI seems to have a complaint-based maintenance process. For the 700 properties in its portfolio, there are two property managers and one supervisor.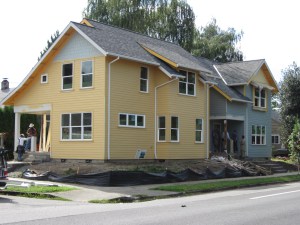 PCRI's prioritization of attention means that some properties appear to be written off. One of PCRI's properties was a long abandoned house at the corner of N. Exeter and N. Fessenden Streets. The house had been boarded up and was target of a series of neighbor complaints over at least five years concerning trash and debris, broken windows, overgrown yard and serial graffiti complaints. A city official described it as a chronic nuisance. This year, the house has been demolished to make way two new town homes nearing completion that will have LEED Silver/Gold, Earth Advantage and Energy Star certification and will participate in the City of Portland's Build it Green! home tour, but the wait has been a long one.
Even houses that appear to be in good shape go up to six months between residents. A home on N. Commercial, whose photograph is featured in PCRI's 2000 annual report, typically waits empty for that long between each occupancy according to a neighbor. "I don't know what they're waiting for," she said.
"Our thanks to PCRI and Infinity in responding to the needs of their clients."
Health and safety issues get neglected as well. An older resident in the PCRI apartments near 10th and Alberta had a smoke alarm whose battery was dying. The neighbors, who heard the constant beeping from next door for a year, requested that PCRI replace it. The resident told the neighbor that he had asked management to replace it as well. The Portland Fire Bureau responded that legally, the smoke detector is the resident's responsibility to maintain. Apparently PCRI agreed. The resident passed away before the battery was replaced when the unit was cleaned out. The Fire Bureau did say in advance, however,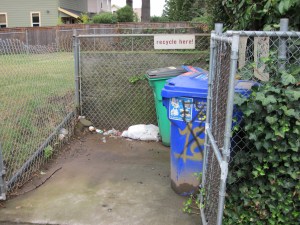 "Our thanks to PCRI and Infinity (Property Management) in responding to the needs of their clients."
Nearby, at another complex, the trash area consisting of a small dumpster and recycling bins sits adjacent to the sidewalk, covered with gang graffiti. Often, bags of food waste and dirty diapers miss their mark, making a pile in the fenced area that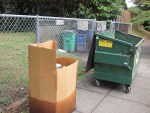 is the food source for a rat colony. For a period of weeks a box spring blocked the sidewalk and larger items spill out around the area.
Ms. Fitzpatrick attributes the negative view of PCRI properties to a lack of cultural understanding. As an example of how to positively work with PCRI she recounted an incident where a concerned neighbor of a property worked cooperatively with them to deal with a situation. The woman called to report that squatters were setting up a camp behind one of PCRI's vacant houses. PCRI responded with the police to remove the squatters and the structure they were constructing in back of the house. The difference in this case that Ms. Fitzpatrick did not acknowledge is that it is not an issue with PCRI maintenance or its residents. She contrasted this feedback from longer-term residents with that of newer ones:
"Now, the situation that I'm dealing with, with the residents on Alberta . . . is not the most common and neighborly way that we've had to deal with problems in the past. That could be because they know who we are and know what we've done as far as turning their block around, making their property more valuable than it was prior to us coming in there. They appreciate that and they work with us. But then there are some who formulate opinions I think that are just very biased and come across as unneighborly. I think that no one thought to pick up the phone to call me or the property manager and tell us what was happening—that they were concerned about with our property— but instead say things, send emails to PCRI's board of directors and to say things like: people are drug addicts, drug abusers and gang-affiliated. Those, to me, are very serious accusations to make. If you go by there and you look at that area, there's nothing that I can see. I've been through there as well as my board since this letter came out—all times of day: early in the morning, late at night. Just looking at the area it does not like gang—I don't know where they get their perception of what a gang-infested environment looks like but that is definitely not it."
". . .It was only a shot in the air . . ."
While the area may not be gang-infested, the block has seen its share of gang activity. Neighbors report large groups of men, mostly wearing red, used to hang out and flash gang signs to passing cars. Since that unit has been vacated the activity disappeared but with the recent incident of shots being fired, new gang activity is suspected. Ms. Fitzpatrick sought to minimize this latest incident by saying: "The police indicated that it was only one shot. And I hear the word guns and I hear the word gunshots but from what I understand, from what the police said, it was only a shot in the air, one time. He didn't say anything about guns or gunshots." The witnesses to the event, however, heard a series of shots followed by a pause and another single shot. The fact that the shots were fired in the air does not make them feel safer.
Ms. Fitzpatrick characterized the way the complaints are conveyed as counter-productive: ". . . Oftentimes we don't take into consideration our differences, how we work, how we live that interfere with our ability to get out and get involved with the community. That's something that we grapple with because it's very, very important to us as well. Just to be able to hear the voices of everybody. If you walk into our office, which I think is representative of the community, we have African-American, we have Caucasian, we have Asian, we have Latino, we have Native American, we have mixed-race people that we employ here. So as a result, we get a multitude of opinions that help us foster our decision making. And I think when we can get our neighborhoods to be the same way, we'll be able to understand each other and be able to engage each other more than kind of going through a civic engagement process, a kind of policing process to get people to behave in a way that may not be how they are culturally, not just based on race, but culture."
Hopefully King residents and PCRI can vow to work together to meet the needs of all the residents of the community. The next meeting of the King Neighborhood Association is on Wednesday, October 13th, 6:30 pm at the King Neighborhood Facility, 4815 NE 7th Avenue. Childcare is available by reservation. Contact us at info@kingneighborhood.org or call the Northeast Coalition of Neighborhoods at 503-823-4575. If you would like to discuss this issue or anything else that effects your neighborhood, get involved with your neighborhood association.
Correction: The previous version of this story cited PCRI's vacancy rate as 17% instead of 7%. We regret the error.
Read the interview at http://kingneighborhood.org/PCRI_interview.pdf