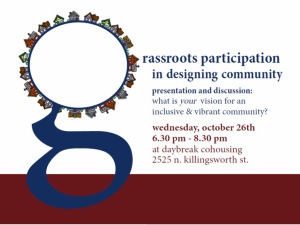 Community Outreach of Our United Villages is hosting a free community-building presentation and dialogue entitled "Grassroots Participation in Designing Community." The flyer is attached below. This event is free and open to the community. Child care (9 and under), transportation, and interpretation will be provided upon request. RSVP is appreciated by October 22nd.
Community Outreach of Our United Villages provides opportunities and resources for neighbors to get to know one another. We believe that everyone has something positive to contribute to their community. We lift up the stories of everyday people doing extraordinary things throughout Portland.
Please feel free to contact us with any questions. Thank you!
Linda F. Hunter & Emily A. Burruel
Community Outreach Team
Our United Villages
3625 N. Mississippi Avenue
Portland, OR 97227
503.546.7499
outreach@ourunitedvillages.org
www.ouvcommunityoutreach.org
Designing Community Flyer
Designing Community Flyer Spanish (2)