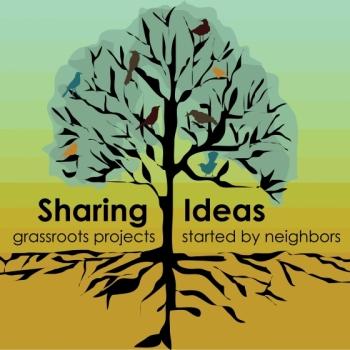 From Our United Villages:
Celebrate the positive things happening in community!

Community Outreach of Our United Villages invites you to the sixth presentation of Sharing Ideas on Thursday, May 24th, 2012 at the June Key Delta Center (5940 North Albina Street) from 6:00 – 8:00 PM. Sharing Ideas showcases the positive efforts of neighbors, groups and organizations throughout Portland.

Three projects will be invited to share the spark that ignited their idea, the tools and strategies used to turn their ideas into action and their hopes for the future of their project. Make connections, build support for positive efforts in the community and discover possibilities for creating similar projects in your neighborhood. Featured projects include:

• Founded by a group of Northeast Portland neighbors, Kitchen Commons works to support the development of "a network of community kitchens in every neighborhood."

• Entering its second year, Village Market is a community-led, nonprofit grocery store in New Columbia providing healthy food, local jobs and education.

• Slated to open in June, Kitchen Share Southeast will be Portland's first community kitchen tool library.

Register to attend online at www.ouvcommunityoutreach.org or call 503.546.7499. FREE and open to the community. Free food! Child care (9 and under), transportation, and interpretation provided upon request. To read about past Sharing Ideas events and for more information, visit our website at www.ouvcommunityoutreach.org.

ABOUT COMMUNITY OUTREACH OF OUR UNITED VILLAGES
Our United Villages (OUV) is a local non-profit organization. As a program of OUV, Community Outreach serves as a free resource for those who see value in connecting with each other. Working from the roots, we bring people together to share their ideas that inspire practices to strengthen community.