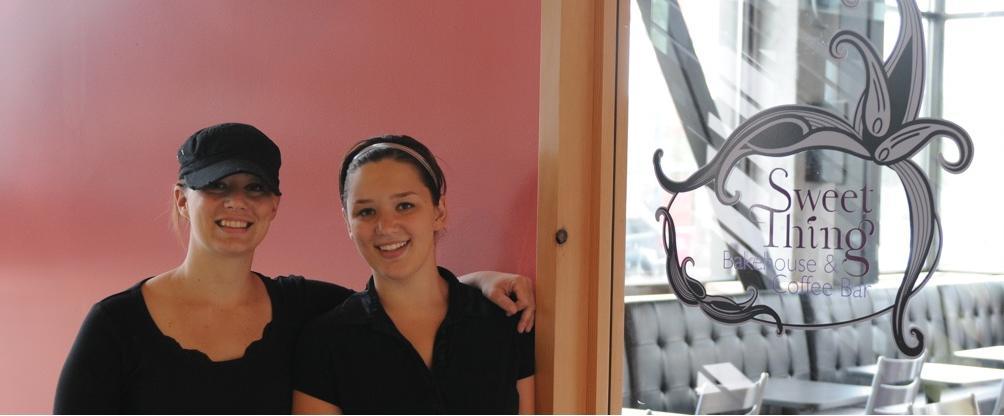 If you've been wondering just what is going on at Martin Luther King Jr. Blvd and Alberta, the Sweet Thing Bakehouse has finally opened in the downstairs space on the southwest corner.
From the Press Release:
"Local Beanery and Bakery Combo Opens With A Conscience
Like a little ambiance with your Americano? A little panache with your pastry? A little social consciousness with your sweet tea?
Sweet Thing Bakehouse & Coffee Bar® is all that and more. Locally owned and operated, Sweet Thing® (http://www.sweetthingpdx.com/) brings together a unique blend of that good old neighborhood hangout feel, baking talent and innovation, and the finest of the world's coffee beans — all in a setting that invites friends to linger in comfortable conversation.
Built on a foundation of support of local and global community, Sweet Thing® is dedicated to values rooted in an "act locally, think globally" line of thought. Visitors to the bakery will immediately be taken with the architecture of the "conversation space", purposefully arranged to encourage conversation, either tête-à-tête or on a grander scale. Or just pull down their free Wi-Fi and surf, share photos, movies or music with friends.
Owner Shawna Marshall is realizing a dream of being able to aid the community, serve neighborhood dwellers, and support a worthy cause by opening this well-appointed, family-owned and operated, full-service coffee bar and bakery. The fare is full and varied featuring coffees, teas, smoothies, fruit parfaits, soups, salads, paninis, specialty cakes and more.
As many products as possible are sourced locally. Some of the products used in crafting a variety of delicious paninis are taken straight from a local, hand-kept garden. With an eye toward sustainability, the drink cups, plastic ware and straws are all 100% bio-degradable. All coffee beans are organically grown, fair traded, and a percentage of profits from coffee sales returns to the Café Feminino foundation (http://cupoftheworld.com/html/cafe_feminino.html) to help support women and children in coffee-growing communities of South America.
All in all, Sweet Thing Bakehouse and Coffee Bar® is the kind of place you can hang with friends, or just enjoy your own personal space knowing you're part of local and global community."
So there you have it!