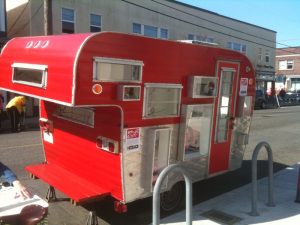 From Art on Alberta:
Join Art on Alberta in welcoming its mobile art gallery, a 1960's teardrop trailer dubbed Red Rover, during June's Last Thursday event on Northeast Alberta Street. Each month the trailer will present works from local artists. This month's featured artist, Lauren Grube, will showcase photographs and a nature installation in the unique space on public display through July.

Looking through the gallery windows at her installation, Ms. Grube hopes you will examine your ongoing interaction with nature, yet momentarily within the confines of a metal trailer. The gallery may be seen on Thursday, June 30, 2011 from 5:00 to 9:00pm at 2715 Northeast Alberta Street in front of Binks Bar. Thereafter, the exhibit may be seen through July 26 on Northeast 19th Avenue between Going and Wygant Streets.

Art on Alberta plans to bring the trailer to educational locations around the Alberta Arts District and the broader Portland
arts community. We are happy to have Red Rover used as an installation space, a gallery, a tool for art education, and a vehicle to bring art to the community in an unconventional way. Please visit www.artonalberta.org or contact us at info@artonalberta.org to learn more about Art on Alberta and discover how you can engage with the organization. For information about exhibiting in the Red Rover gallery, contact: Alice Orleman and Susannah Kelly at exhibitions@artonalberta.org.