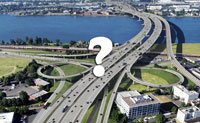 A conversation with George Crandall, urban designer; Bill Scott, founder and general manager of Zipcar; and Joe Cortright, economist.
Three of the region's top experts in design, economics and transportation offer a cheaper, more buildable alternative to the proposed 1-5 bridge over the Columbia River.
Part of the Agora events series of the City Club of Portland
Presented in partnership with Portland Monthly magazine.
Date: November 15, 2010 – 6:00pm – 7:30pm
Jimmy Mak's 221 NW 10th Ave.