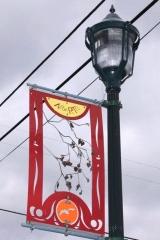 From Alberta Main Street:
It's official! The Alberta Main Street target area now includes NE 10-15th Avenues. The original Alberta Main Street target area included NE 15th – 31st Avenues. The stretch of Alberta Street between NE 10-15th Avenues was not originally included in our application due to a restriction regarding Main Street programs operating within Urban Renewal Areas (URA). Last July the URA was expanded to include all of the commercially zoned property along NE Alberta Street. Existing Portland Main Street programs operating within the URA expansion areas have been granted the authority to continue program operations within the URA.

This provided an opportunity for Alberta Main Street to request a target area expansion to include NE 10th – 15th Avenues. Our request was approved in late 2011. A Main Street target area is defined as the geographically defined commercial district with discernible, logical boundaries of a manageable size and configuration. We would like to give a special thanks to the business between NE 10-15th avenues that have supported Alberta Main Street over the last year. Thank you for seeing the value in Alberta Main Street and helping to promote a vibrant business district and strong community.