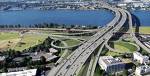 CROSSING THE COLUMBIA: WHAT DOES IT MEAN?
A Forum to Explore the Columbia River Crossing and its Regional Impact
Presented by PDXplore and the Architecture Foundation of Oregon
Exhibitions and Presentations
March 22-26, 2010
Pacific Northwest College of Art
1241 NW Johnson | Portland, OR
Free and open to the public
For complete details, please visit www.pdxplore.org
The Architecture Foundation of Oregon (AFO) and the independent PDXplore design collective share a purpose to advance awareness of design and its role in the urban planning process. To help the public better understand the magnitude of the Columbia River Crossing (CRC) project, AFO and PDXplore have partnered to present Crossing the Columbia: What Does It Mean?, a multi-faceted forum at Pacific Northwest College of Art (PNCA).
The forum will provide several opportunities to consider and discuss this urban infrastructure project of local and national relevance. The results of the CRC will impact our region for decades and the project demands a clear vision of its far-reaching economic, ecological, cultural and social significance. We hope to broaden the discussion with a wide-reaching audience in the Portland-Vancouver region including: elected officials, community leaders, neighborhood associations, special interest groups, the architecture and design community, students and educators, and interested individuals.
The forum is co-sponsored by PNCA and the Regional Arts & Culture Council.
**
PDXplore: Expanding Design Awareness
March 22 – 26, 2010, PNCA's Swigert Commons
Visit a large-scale exhibition that will feature questions and design approaches to the Columbia River Crossing and its regional impact, presented by the five members of PDXplore.
Opening Reception:
Monday, March 22, 5:30-7pm, PNCA's Swigert Commons
AFO and PDXplore welcome the public to join them in celebration at the opening of the exhibition. A tour led by the PDXplore design collective will begin at 6pm, offering the public an opportunity to learn more about the individual designers' approaches and ask questions.
International Panel: Fresh Design Perspectives
Thursday, March 25, 6-8pm, PNCA's Swigert Commons
Join moderator Ethan Seltzer as he leads a provocative discussion about the Columbia River Crossing with international experts in the fields of design, culture and urban planning. Panelists include: Boston Globe architecture critic, Robert Campbell; artist, Ed Carpenter; outgoing National Endowment for the Arts Director of Design, Maurice Cox; Toronto architect and urban design consultant, Ken Greenberg; and author of The Organic Machine: The Remaking of the Columbia River, Professor Richard White.
All events are FREE and take place at Pacific Northwest College of Art
1241 NW Johnson | Portland, OR
PNCA is open to the public daily from 10am – 7pm
—
Mara Gross
Policy Director
Coalition for a Livable Future
503.294.2889
www.clfuture.org