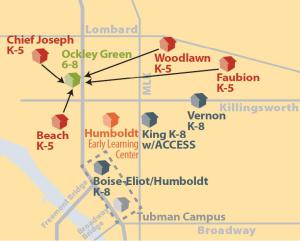 Portland Public Schools has released six scenarios of suggested changes to schools in parts of North and Northeast Portland that have priority enrollment to Jefferson Middle College for Advanced Studies. This enrollment balancing process is tasked with resolving issues due to overcrowding at some schools and underenrollment at others.
King PreK-8, with 290 students in grades K-8 is the second smallest school in the cluster now that Humboldt was merged with Boise-Eliot and Tubman Young Women's Academy was closed. A major consideration is whether to convert some schools back from K-8 to K-5 and add one or two middle schools. Some schools may be closed or merged, or be converted to split campuses, with different elementary grades in different buildings. While not necessarily intended as final options, the six scenarios were distributed to garner feedback from the public to help craft the final solutions. These, more refined proposals will be mailed to parents over winter break and posted to the PPS Enrollment Balancing page.
The deadline for feedback is this Wednesday, December 12th. The feedback form is available on the PPS site and can be returned to any PPS school or feedback can be emailed to enrollment-office@pps.net.
After winter break, public comment will be taken in January. Then, the Superintendent will make a recommendation to the school board who must approve the changes. If there is not a delay, the changes will take effect in fall of 2013.
A facebook group was begun to give parents, community members, and some school board members a forum to discuss the proposals and the larger issue of educational quality, programming, leadership, and transfer policy in the Jefferson Cluster. You can join in at: http://www.facebook.com/groups/291158914333031/