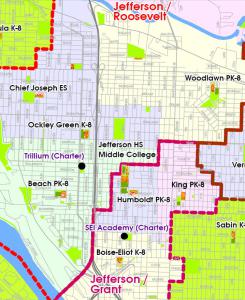 How can the parents and public be involved?
Robb Cowie, Executive Director, Community Involvement and Public Affairs at PPS will meet with the King School community on Tuesday, June 5th starting at 5:30 in the King School Library. Come to hear about the district's plans for public engagement in developing the plan to change King School boundaries to raise enrollment and make King sustainable.
As part of the plan to reconfigure the former Jefferson cluster, schools may be closed, change from K-8 to K-5, or change programming. Since the cluster lacks a middle school, a stand-alone middle school may be created. The decision is expected to be finalized by October 2012.
 Enrollment Balancing Public Process Meeting
 Tuesday, June 5th 5:30pm
 King School Library, 4906 NE 6th