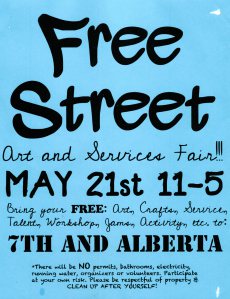 We don't know who thought up the Free Street Fair, or put up these fliers in the neighborhood, but we're intrigued to see what our neighbors turn out this Saturday.
On another topic, there's no rain in the forecast for the weekend, so if you find yourself with some free time and want to help out the King NA with some canvassing, we have brochures and fliers for our upcoming clean-up and neighborhood garage sale that we'd love your help distributing. We're looking forward to getting out in the sunshine and saying hi to our neighbors along the way!
You can join us by stopping by our meeting on Saturday morning, between 10 and 11 at Reflections Coffeeshop (446 NE Killingsworth), or by emailing us, or giving Alan a call at 503-880-6848.