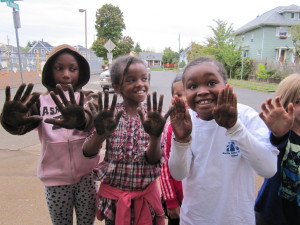 Next Saturday, April 25th, from 10 to 1 pm
A bit of rain won't deter any good Portlander, especially when there is free good coffee and donuts. Plus you get to shovel some dirt and mulch to feel less guilty about that extra donut that you shouldn't have eaten.
Thanks to East Multnomah Water and Soil Conservation District, North East Coalition of Neighborhoods, King Neighborhood association, King School PTA  and Groundworks, the Green King Project is organizing this awesome community event to honor our Mother Earth.
Get to enjoy the fun and the good feeling that comes from changing some ugly neglected areas into beautiful green areas. Don't miss this opportunity to help out your community, meet your neighbors, do some healthy exercise.  Please RSVP if you can. Location is at King School 4906 NE 6th | Portland, OR 97211 Parking is available in the parking lot in NE 7th and Wygant. We will be meeting close to the playground.
Join Green King and get updates of the event at https://www.facebook.com/greenkingprojec or email diego@kingneighborhood.org from Green King if you have any questions.
Life's most persistent and urgent question is "What are you doing for others?"
                                            
                                                                                                                            Martin Luther King, Jr