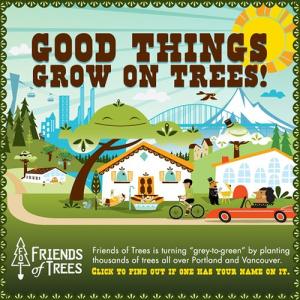 In partnership with Friends of Trees, the King neighborhood is planning a tree planting project for February 12, 2011! Join us on Saturday morning to help plant trees and create a healthier community.
Planting a tree in your yard or parking strip creates long lasting benefits enjoyed by everyone. Did you know that trees remove pollutants from the air? A typical tree absorbs 10 pounds of pollutants, cleans 330 pounds of carbon dioxide, and creates 260 pounds of oxygen each year. Having cleaner air in your neighborhood has all sorts of health benefits, such as reduced asthma rates. Trees also help intercept and retain 760 gallons of rainwater each year, which help keep our rivers clean and help save us money on stormwater fees. Trees can cool our homes in the summer and shade our city which helps us stay cool all summer. Trees raise the property value of your home by up to 20%. Also, unlike many other things, trees appreciate in value each year. And by planting trees now, we can keep our city green into the future.
This winter, King residents will be offered street trees starting at $35.00. The cost will include a site inspection by the Urban Forestry Department to ensure you choose the right tree for your home, hole digging, help with planting your tree, stakes, mulch, ties, labels, follow-up monitoring, and information on proper tree care techniques. For more information, please visit www.friendsoftrees.org.
Planning has begun for the King Tree Planting event, to participate please contact Irek at (503) 828-6943 or king@plantitportland.org.