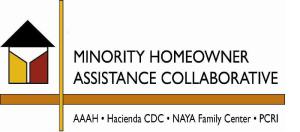 Portland Community Reinvestment Initiatives (PCRI), in conjunction with our Minority Homeowner Assistance Collaborative (MHAC) partners, is hosting a forum Tuesday, March 15, 2011 from 6:00 – 8:00 p.m. to address the challenges African-American seniors are facing to maintain homeownership.
The evening forum is an opportunity for Portland seniors to discuss the challenges they are facing—financial and otherwise. Just as important, it is an opportunity for PCRI and our community partners to connect with seniors to brainstorm solutions that will provide the assistance necessary to overcome these challenges.
PCRI and other MHAC partners will be available during the forum to answer questions and provide information about our free homeownership retention program. The program is available to assist Portland seniors with experienced, culturally-specific services including one-on-one counseling, individualized coaching and advocacy, connections with community services and direct financial assistance.
The forum will be held at Oregon Association of Minority Entrepreneurs (OAME), 4134 N Vancouver Avenue at Skidmore in Portland. For more information, individuals can contact Homeownership Retention Coordinator Shalonda Menefee at 503-288-2923.