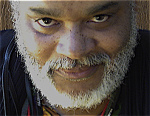 Bobby Fouther, dance instructor, artist, member of the Oregon Ballet Theatre outreach staff, and tireless King School supporter and volunteer has been selected to receive the "Independent Spirit Award" for his work in the community. I hope you can attend the ceremony and celebrate. Admission is free to all.
25 winners will be receiving the coveted 2009 Spirit of Portland Award during an evening ceremony at the Portland Center for the Performing Arts Thursday, Nov. 12, 2009 starting at 7 p.m. The group of winners includes those chosen in various categories by the Selection Committee last week and those selected by Council members to receive the newly created Commissioner's Award.
The Award Ceremony will be held in the Newmark Theatre, one of the PCPA's three theatres. A reception with cake and beverages in the spacious lobby downstairs will follow. The Newmark Theatre is located inside Antoinette Hatfield Hall, 1111 SW Broadway at the Main Street intersection in downtown Portland.