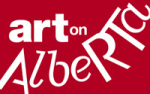 From Art on Alberta:
Art on Alberta is doing a big push the last few weeks of our Red Rover mobile art gallery Call to Artists. The deadline is June 1. We are very excited about Red Rover and our mission to promote the Alberta Art District's distinct cultural identity through art and educational activities. What a perfect vehicle to do that within our community. Go to www.artonalberta.org for full details about this Call.

We look forward to the gallery's first stop at Last Thursday on June 29. More about that to come.
Thank you for your support of Art on Alberta.