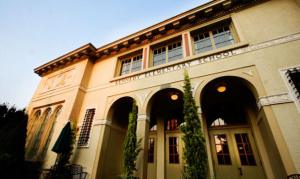 From McMenamin's Kennedy School:
"The Albina Mural Project: Filling a Void in Portland's Public Art and History"
Kennedy School Theater | Monday, January 31, 7 p.m. | Free | All ages welcome

In the late 1970s, a group of several artists of color created murals and sculptures that hung outside for five years in the historically African-American Albina neighborhood. They worked to depict the history of black culture, both within in and outside America, aiming to fill in the gaps left by silent history books. Mural scholar Robin Dunitz will explain the context in which the artists worked and the impact the project had on them and the community. We will also show a film on the Albina Mural Project created by Portland State University's Center for Moving Images.

Robin J. Dunitz has been researching, photographing, and writing about murals for almost thirty years. The traveling exhibit "Walls of Heritage, Walls of Pride: African American Murals" is based on a book of the same name, which she co-authored with James Prigoff and which was published by Pomegranate Communications in 2000. In 2005, the Smithsonian's Anacostia Museum and Center for African American History and Culture hosted the exhibit. Her other books include Street Gallery: Guide to 1000 Los Angeles Murals and Painting the Towns: Murals of California, the latter also co-authored with James Prigoff. She holds a B.A. in people's history from the University of California.

About History Pub Monday
Join us for beer and history, sponsored by the Oregon Historical Society, Holy Names Heritage Center and McMenamins, in which you'll hear lively local or regional history while you enjoy a frosty pint or two of handcrafted ale.

The Kennedy School is at 5736 N.E. 33rd Avenue.