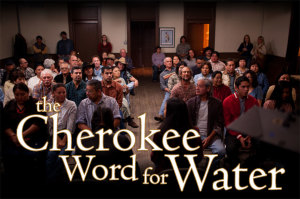 November 11th

JHS Multicultural
Film Festival Movie
—
"The Cherokee Word for Water" and our guest facilitator, David Crawford, November 11th, will be at the North Portland Library, as part of the Jefferson High Multicultural Film Festival.
Mr Crawford engaged in life-changing conversations with Chief Wilma Mankiller (the protagonist of our movie) that caused him to apply and become a Cherokee Nation citizen in 1995.  He was honoring his deep Cherokee family's historical experiences of life in Cherokee country – Coosa River (northeastern Alabama), Cherokee Nation West 1822 (northern Arkansas), the "Trail of Tears" 1837-38 to Indian Territory 1874 (Nowata, Oklahoma), and ultimately the small allotment of land issued (circa 1914) by the United States as it took remaining Cherokee land.
David Crawford, now an Oregon citizen, is founding member of Mt. Hood Cherokees (MHC), a Portland, OR official satellite community of the Cherokee Nation. He has served on MHC's Council since it's inception in 2010 and is currently Meeting Facilitator.  David Crawford brings with him JoEllen Marshall, also MHC Council member.
This Multnomah County Library sponsored program presents "The Cherokee Word for Water" for Defy the Inevitable: Harvest Beyond the Brim, our 2014/15 JHS Multicultural Film Festival Program, at no cost to you. it is family friendly and FREE. It will be great to … see YOU at the movie November 11, 6 PM at North Portland Neighborhood Library (512 N. Killingsworth Street, Portland!