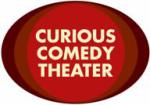 From Curious Comedy Productions:
Hello Curious Comedy Community!

We've been busy little bees here at the Curious Comedy Theater, here's what we have coming up this weekend:

Thursday
Open Court returns! Come jump on stage and play with us! Bonus performance by the Curious Comedy Playaz. Doors 7:30PM, Show at 8PM, $5

Friday
Come see Curious Comedy co-founders, Bob Ladewig and Stacey Hallal in Jean Louis' hilarious new sketch comedy show, Communicatos, explores how hard it can be sometimes to, you know, communicate on or with or whatever each other — if that makes sense. Does it? Doors 7:30PM, Show at 8:00PM. Special for those of you on our email list, use the coupon code, Loyalty, and get your tickets for only $10! (Otherwise it's $12 advance, $15 at the door..)

Saturday
Theater closed for a private event.

Also keep an eye on the calendar for the return of the Curious Garden, our hilarious kids show as well as exciting upcoming shows including local kids musician Mr. Ben, an Improvised Musical and much much more!

We hope to see you all very soon!