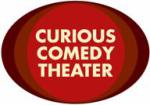 From Curious Comedy Theater:
Wednesday
Mr. Ben presents his weekly kids show. Relax and enjoy a beer while Mr. Ben plays music for the kids. Suggested donation of $3 per person or $10 per family. Doors 3:30, Show 4-6.

Thursday
Open Court is back and offers you a chance to perform on stage with us, or just relax and watch. Doors 7:30, Show at 8. $5.

Friday and Saturday
Closing weekend of Curious Comedy's co-founder and artistic director, Stacey Hallal's one woman show, Unexpectations. Don't miss your chance to see Stacey tell stories, perform some stand-up, and much more. Doors 7:30, Show 8:00. $12 advance, $15 at the door. (Groupons welcome)

Early Saturday
Kindierock PDX rocks the house Saturday morning for your kids. Featuring Mr. Ben, Professor Banjo, Matt Clark, and The Alphabeticians. Doors 9:30AM, Show 10AM-12PM. $4 per child, $8 per adult.

Sunday
The Curious Comedy Stand Up Showcase and Open Mic returns. Get on the list at 8:30, or just come to watch at 9. As always, it's free and hosted by the Barfly nominated comedian, Virginia Jones.

Time is running out to grab a discount on classes, so register online now. We are offering classes in Improv, Stand-Up, and Sketch comedy, so don't miss your chance to get a discount these incredible courses.

Also keep an eye on our calendar for exciting upcoming shows including our all original sketch comedy show, Apocalypse Now and Later opening Saturday, April 30th.