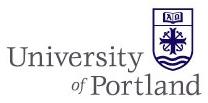 Clean energy solutions are on the way to the University of Portland in the form of a Focus the Nation clean energy forum on Saturday, Feb. 26 from 9 a.m. – 4:30 p.m. in Buckley Center Auditorium on campus, 5000 N. Willamette Blvd. The forum is free and open to the public.

Former Secretary of State Bill Bradbury will be the keynote speaker to the day-long conference, focusing on some of the critical challenges we face on energy and sustainability, how we are beginning to constructively address those challenges, and how all generations can collaborate and get involved.
In the concurrent sessions that follow Bradbury's address, audience members will hear from experts throughout the state in some key energy related areas: environmental impacts of energy production, the business and economics of energy, clean technology solutions, and energy and environmental policy. Sessions are intended to be interactive and participants should be ready to engage with questions and observations.
The event, completely organized by students, is committed to keeping the dialog throughout the day positive, constructive, and fun. We are not interested in cynicism. We are interested in changing the world, together, with hope and purpose!
For more information and a complete schedule of events: http://orgs.up.edu/climatechange/index.php?q=node/28