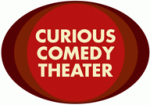 From Curious Comedy Productions:
Hello Curious Comedy Community!

This week is an exciting one for us here at Curious – above and beyond the prospect of snow!

Thursday, we have our first Fertile Ground show of the festival, Triskaidekaphilia (Just My Luck), a one man show featuring Jimmy Radosta. Using a strange brew of true-life stories mixed with twisted renditions of classic karaoke hits, Radosta recounts his rocky relationship with misfortune. Show at 8pm, Doors at 7:30pm. $10.

Friday, catch a sneak peek of Jean Louis in Communicatos, the duo's newest sketch show featuring Curious founders, Bob Ladewig and Stacey Hallal. Bonus long-form improv show performed by the Curious Comedy Playas! Show at 8PM, Doors 7:30. $12 advance, $15 at the door.

Please make a note that Saturday, January 15th the theater will be closed for a private event.

Next weekend, catch David Saffert's Birthday Bashtravaganaza. To celebrate the Fertile Ground festival opening night, on January 21st, see a set by the Michelle Kopper Band ($12/$10), followed by Baby Ketten Karaoke for FREE! Be sure to keep an eye on the website for all the details!

Classes are starting this week, so make sure you register online if you'd like to take any one of our many classes in Improv, Sketch, and Stand Up!

We are always looking for extra help around the theater. If you are interested in volunteering, contact Katie by emailing her at katie@curiouscomedy.org.

Thanks so much for supporting us and we are looking forward to seeing you soon!