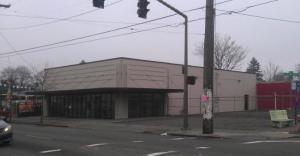 From the Vernon NA:
The Vernon Neighborhood Association Board has officially decided to oppose the 7-Eleven development due to the existence of three locally and minority-owned convenient stores within one block of the proposed location, which would be threatened by a 7-Eleven. We are also concerned about traffic safety impacts on bicyclists and pedestrians, especially the children walking to Vernon School each day and those that use the Number 8 bus. We also feel strongly that a 7-Eleven will not help improve the safety and livability of our neighborhood.

However, according to City officials, the CS zoning at the location allows convenient stores to be built. Our plan is to put pressure on the City and the property owner (who is about to sign a 10 year lease with 7-11) to reconsider their decision. Neighbors around Portland have successfully been able to do this in the past. Your actions count!

How You Can Take Action(if you are opposed to the 7-Eleven)

Please take our survey below
Please consider calling and/or emailing Commissioner Fritz: amanda@portlandoregon.gov
who oversees the Office of Neighborhood Involvement, and Commissioner Saltzman: Dan@portlandoregon.gov who oversees the Bureau of Development Services about your concerns
You can contact the new owner of the property: MAJ Development: 360-823-5125
If you have not already done so, please Like the Vernon Neighborhood on Facebook so you can stay updated
If you would like to go door-to-door and talk to your neighbors to collect signatures in opposition, contact Adriane: adriane.ackerman@gmail.com, who is heading up our public outreach team.