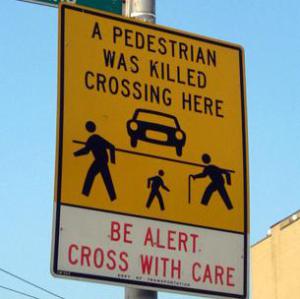 From Vision Zero:
The Stakeholder Advisory Committee (StAC) for Vision Zero Oregon's King/Humboldt/Boise's Roadway Safety Action Plan will begin looking at neighborhood road problems. These problems were collected through stakeholder interviews, a public survey, and a March 2011 community walking tour. The Vision Zero project will use the perspectives and expertise from the StAC to make a plan to increase road safety in the King, Humboldt, and Boise neighborhoods. This project will look at ways to reach "Vision Zero;" a vision of roads that don't have any deaths or injuries for people walking, biking, or driving.

Both StAC meetings are open to the general public. Pizza and refreshments will be provided.

Wednesday, March 23
5:30pm – 7:00pm
Oregon Association of Minority Entrepreneurs
(Amelia Room, 4134 N. Vancouver Avenue)

Wednesday, April 20
5:30pm – 7:00pm
Oregon Association of Minority Entrepreneurs
(Amelia Room, 4134 N. Vancouver Avenue)

The public is encouraged to attend both StAC meetings and to complete an online survey at www.VisionZeroOregon.org. If you have any questions about the project, please send a comment through the website.

Timeline for the project:

January 2011: Project starts
February 21-March 22: Existing conditions, public outreach, and Toolkit creation
March 23: StAC Meeting #1: Roadway safety issues selected and solutions discussed
March 24- April 19: Public outreach discussing StAC identified solutions to safety issues
April 20: StAC Meeting #2: Refine strategies and form Roadway Safety Action Plan
April 20- June 8: Final Roadway Safety Action Plan and Toolkit Development

Vision Zero Oregon takes a new approach to street traffic safety. Fatalities and injuries to drivers, bicyclists, pedestrians, and other road users should no longer be tolerated. The Vision Zero Oregon project aspires to develop new neighborhood-oriented strategies for improving road safety. Roadway design, policy and enforcement, and community-driven education and awareness campaigns will all be vital as we seek to make our streets safety and more accessible for all users. Safer streets help create healthier, friendlier, and more vibrant communities and this project intends to lead the way.

This project is being led by a group of five Portland State University Masters of Urban and Regional Planning students, with the project client, the Bicycle Transportation Alliance. They will develop a comprehensive toolkit of strategies and a Roadway Safety Action Plan with, and for, the Humboldt, Boise, and King neighborhoods.

If you have questions about the StAC or the project in general, please feel free to contact the Public Outreach Coordinator, Michelle van Tijen (503-893-8777) or (michelle@visionzerooregon.org).