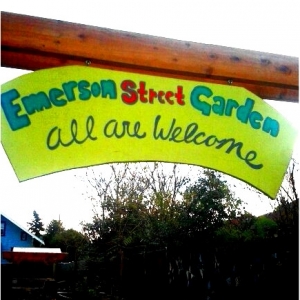 Emerson Street Garden: your community garden, at 8th & Emerson.
Thank you to Bart Fitzgerald and Sierra Davis for choosing to have Bart Fitzgerald's Birthday Fish Fry at Emerson St. Garden on July 3rd!! Emerson St. Garden strives to uplift and center people of color, and we were thrilled to host this POC lead celebration.
We'd love to keep the fun going! We've planned some events that we hope you'll like.  So far, we have four in the works:
Tuesday, July 14th 7-9 pm: Work Party
Come out to the Garden for an evening of painting, gardening, and meeting community members! Drinks and light snacks provided. Possible tasks include weeding, planting starts, cleaning up the beds, painting signs or the bench, sweeping the roof, weeding the curbside, building a curbside raised bed, and anything else you can think of!
Note: We plan on having Work Parties on Saturdays but with all of our Friday events coming up, we scheduled the next one for Tuesday! We'll announce the next Saturday Work Party soon!
Bring your own jar for beverages and plates and forks for sustainability!
Friday, July 17th 6-8pm: Living Roof Workshop**
In this workshop we will construct a living roof on Emerson Garden's front roof with succulents! Dinner will be provided before the workshop, and after eating we will learn how to to plant succulents and the benefits of living roofs! Children are welcome, and there may be a succulent for you to take home to start your own living roof.
**Donations we need for this workshop: If you have a little extra nutrient-rich soil, native shrubs or plants (lavender especially), or succulents you want to get rid of or are willing to share, we would love them!! Please email back if you want to make a donation and we'll set up a time to come by and pick them up! Thank you for supporting your community.
Bring your own jar for beverages and plates and forks for sustainability!
Friday, July 24th: Cooking Workshop and Community Dinner