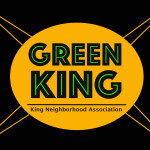 As part of the Green King Project, on April 27th, 2016 the King Green-space Collaborative (KGC), a collaborative that includes Green King,  NECN, SEI, Groundwork Portland and Lanyi Fan will be partnering with Architects Without Borders, for a design charrette. The goal of this charrette is to create designs for improving the King School Park and surrounding areas, using community input. KGC is working to increase green space, better integrate green areas, reduce water run-off, and improve lighting and safety in the King School Park area.
Architects Without Borders will be gathering a group of architects and landscape architects (both students and professionals) who would like to help with the project. Christina Frank, King Neighborhood resident and professional park designer will be the lead of the design team.

This is a long-term, community-driven project led by neighbors who are passionate about creating a better space for neighbors, engaging community and creating a model for environmental design.

We would like to invite you or your organization to participate in the charrette and to help members of the KGC and the surrounding community present information on the desired design outcomes. The first meeting of this charrette will be held on Wednesday, April 27th, from 6-8 pm at 601 W Burnside St, Portland (at St Andre Besset Catholic Church)

There will be many more opportunities to get involved in this project, closer to our neighborhood. Please contact diego@kingneighborhood.org if you have questions about this project.
For more info on Green King Project visit http://kingneighborhood.org/green-king/