From Alberta Main Street:
Alberta Main Street Demonstrates Results
We are pleased to report some of the accomplishments we've achieved working together with our businesses, commercial property owners, community partners and local residents over the past fiscal year. We have many reasons to celebrate but still have more work to do. As we launch our annual fundraising campaign, we hope you will support our efforts!
July 2011 – June 2012 Accomplishment Highlights
-New Jobs: Net increase of 75.5 new jobs created on NE Alberta Street.
-New Business: Net increase of 8 new businesses between NE 10th – 31st Ave.
-Increased Revenue: 80% of Alberta Street businesses with comparison data reported increased revenue from 2010 to 2011.
-Low Vacancy Rate: Alberta Street's commercial vacancy rate is 4.6%, well below the Portland regional average of 7%.
-Community Investment: Volunteers contributed over 2400 hours of their time and talent. Based on the Independent Sector's value of volunteer time this equates to a cash equivalent investment of $53,832.
Alberta Main Street provides the organizational infrastructure to lead Alberta Street. As an independent non-profit organization, the majority of our funding is generated from contributions from people like you; people with a stake in developing and maintaining a healthy and vibrant Alberta Street.
Please help us start this year strong and invest in Alberta Main Street. Your contribution to Alberta Main Street is tax deductible and we thank you in advance for your support!
Support Alberta Main Street Today!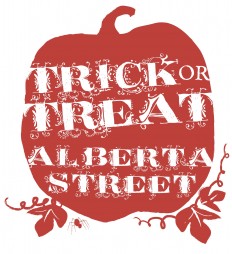 Trick or Treat Alberta Street!
Come trick or treat with us this Halloween from 3 – 6PM on Halloween. Look for the "Trick or Treat Here" sign in the window at participating Alberta Street businesses.
The first 100 kids to visit Umpqua Bank Alberta will receive a reusable trick or treat bag. More info….