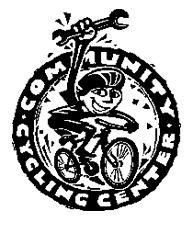 From Umpqua on Alberta:
Hello community peoples,

I am sure that you may be familiar with the good work the Community Cycling Center performs throughout the year. I would imagine you also might be aware of their Holiday Bike Drive. For more information visit the following link: http://www.communitycyclingcenter.org/?page_id=24.

Umpqua Bank Alberta will be putting forward our first, annual Spirit of the Season Benefit on Thursday, December 9th from 6 to 8 PM. This year the event will benefit the Community Cycling Center. Treats will be provided by Petite Provence and spirits from Cork Wine Shop. Representatives from the Community Cycling Center will be in attendance to discuss how interested residents can get involved with the center and support the Holiday Bike Drive.

Please share this information with your area residents and come out for a good cause!

1745 NE Alberta Street

Thanks,

Robert
Robert W. Cross | store manager | alberta arts | umpqua bank | c: 503-706-8138 | t: 503-219-6161 l f: 503-287-3182
P.S. Umpqua Bank Alberta's Build Your Block Challenge has a winner! Learn how to get involved on our Facebook page at www.facebook.com/albertaumpqua.