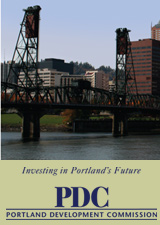 Portland Development Commission Green Features Grant Program
An open house to introduce the Portland Development Commission's (PDC) Green Features Grant Program is scheduled for June 3, 2010 from 6:00-7:30 p.m. at the Shaver Green Community Room located at 375 NE Shaver St.
PDC is seeking proposals from businesses in the Interstate Urban Renewal Area (map at: http://pdc.us/pdf/ura/interstate_ura.pdf) that are interested in implementing creative sustainable business practices and "green" building features. Grants are available for up to $25,000 for eligible businesses for property redevelopment, historical rehabilitation and applying creative means of implementing sustainable property improvements. Funding is through tax increment financing, and therefore is limited to real property improvements.
This grant is intended to generate interest in sustainable design and practice in Portland's neighborhoods. The grant is being targeted to small, emerging businesses that typically may not think about sustainable options or have the ability to cover the incremental costs associated with emerging technologies. The grant seeks both need based applicants looking to cover the incremental costs associated with sustainable building and those desiring to adopt more sustainable practices.
A total of $200,000 is available for fiscal year 2009 – 2010. Grants will be dispersed on a reimbursement basis. Reimbursements will occur after agreement between PDC and applicant as to work to be performed and verification.
Green Features Program Goals
The Green Features Grant is intended to encourage neighborhood-based business and small to medium-sized wholesalers and manufactures to implement creative sustainable business practices and green building features. Program goals are to encourage small to medium-size businesses to:
Think innovatively and strategically how sustainable features can be included in their business model; Introduce sustainable features to demonstrate cost-savings or reduce environmental impact; Demonstrate the potential of sustainable features to increase productivity; Integrate conservation and efficiency into business operations; Contribute to Portland's environmental, economic and social goals.
Preference will be given to those projects that, in addition to meeting the eligibility requirements:
Have a high likelihood of implementation Demonstrable energy savings or resource conservation Use local or recycled products Increase neighborhood livability Can demonstrate increased productivity Show cost-savings Have a measurable environmental impact Leverage private resources Have high-visibility Lead to job creation or retention
For more information contact Stephen Green, Project Manager Portland Development Commission at (503) 823-3231 or GreenS@pdc.us
Joleen Jensen-Classen
Public Participation Manager
Portland Development Commission
222 NW Fifth Ave.
Portland, OR 97209
(503) 823-3352 desk
(503) 823-8057 cell
jensen-classenj@pdc.us
Follow on Twitter: @PDCJoleen
http://www.pdc.us/pdf/ura/interstate/greenfeatures/Green-Features-For-Business-Guidelines.pdf