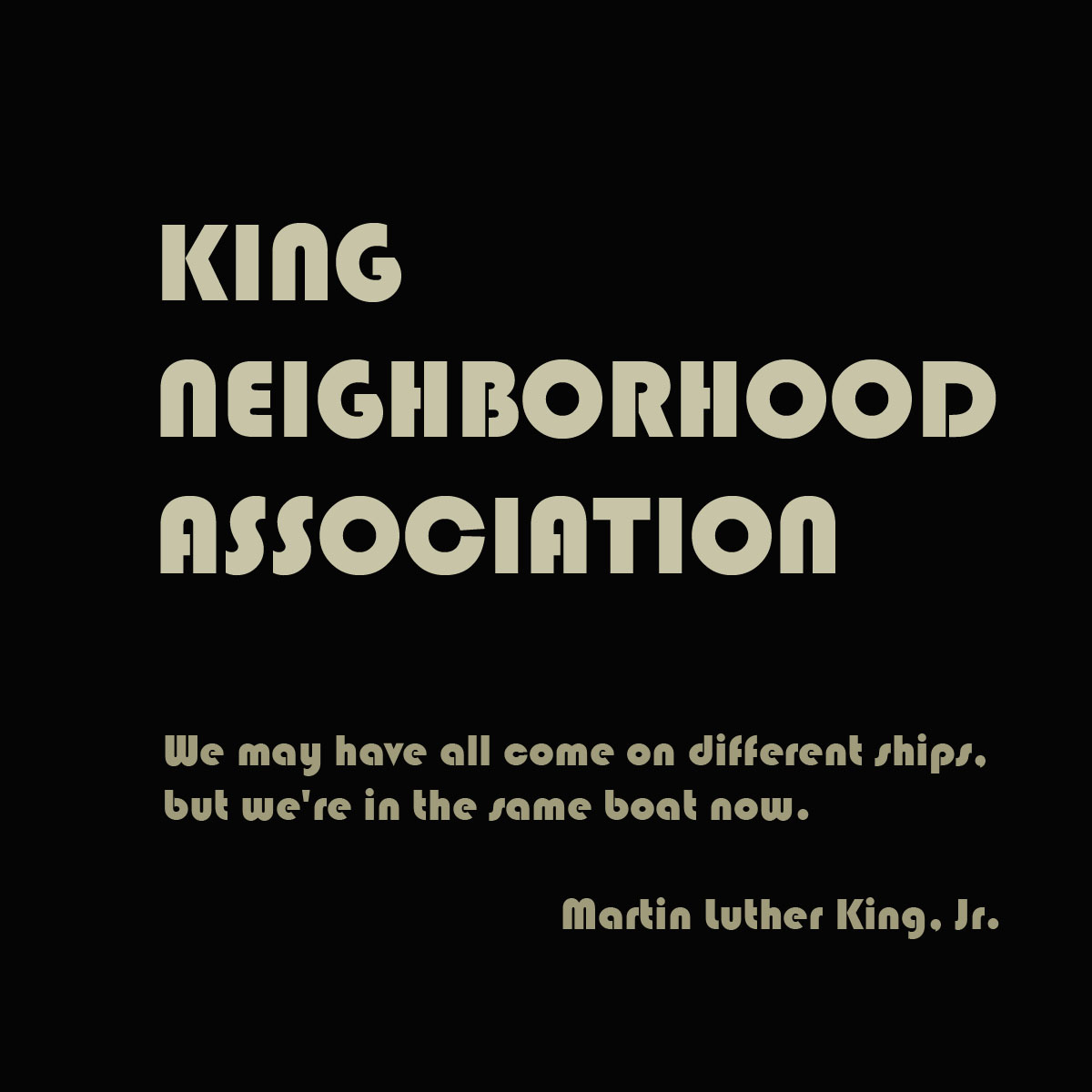 Agenda: King Neighborhood Association monthly meeting, Wednesday June 13th, 2016
6:30 – 8:45 pm, at the offices of the Northeast Coalition of Neighborhoods, 4815 NE 7th Avenue, 97211
Intros, agenda, minute meetings from May & June
Update on the Ocobock property (5128 NE Rodney) – at the request of neighbors, KNA filed a demolition delay permit request, in order to give neighbors more time to save this building from demolition. A hearing on that request is scheduled for July 13th, though neighbors are asking for a short postponement.
NA committee composition – who is responsible for what tasks?
Jes Larson, Portland For Everyone – Jes will discuss this fall's ballot measure to provide a revenue stream for city spending on affordable housing.
Proposed summit/conversation among members of KNA, NECN, ONI to discuss grievance processes and related issues: proposed by co-chair Eileen Kennedy.
Land Use update – Andrew Neerman & Evan Heidtmann
– proposed 6-story building at MLK/Mason (Vic Remmers, developer) in design review, with ground-floor commercial eliminated from the plans.
-residential infill zoning changes – proposals are circulating, public meetings being held by the city to introduce them.
Safety & livability issues update – Eileen Kennedy
Autumn neighborhood clean-up?
"Ocobock Mansion Neighborhood" neighborhood disaster planning – should these nascent plans be brought under the aegis of the King NET (neighborhood emergency team), for to ensure city-standardized trainings and safety procedures?
Update on KNA grievance issues & process.
Discussion re: NA participation – what are challenges to increasing participation, including and especially under traditionally underserved communities? How can KNA be more welcoming? What can we offer to neighbors?
Future conversation topics for consideration.