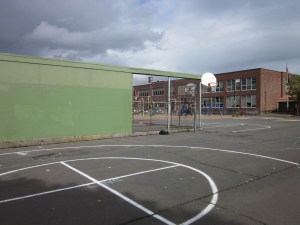 King Neighborhood Association Special General Meeting:
October 31st, 6:00-6:45 pm
King Neighborhood Facility
4815 NE 7th Avenue
Hello all:
King Neighborhood Association has the opportunity to meet and discuss two proposed projects that are would affect livability in our neighborhood. Each of these projects is being submitted for a grant with the Northeast Coalition of Neighborhoods, whose grant process has a deadline of November 1st. The proposals were not completed in time to be considered at KNA's last meeting, so we've scheduled a special Halloween meeting to look each of them over and decide whether to endorse them.
• KING SCHOOL PARK/KING SCHOOL MURAL AND GRAFFITI ABATEMENT PROJECT
Local artist Rodolfo Serna working with the arts-to-schools program, the Right Brain Initiative, will work with students at all age levels in King School as an artist-in-residence to produce a mural to beautify the King School Park grounds and create a sense of place and identity out of a blank wall adjacent to the tennis courts. This area is a frequent target for graffiti due to its large empty vertical surface. Murals have been shown to reduce the incidence of graffiti and this project will fill a gap in King's visual arts curriculum this year. As King continues to develop its International Baccalaureate program, integrating more art into the school will be crucial to developing the student body's various means of expression and will develop investment in the wider community.
• DOOR-TO-DOOR SURVEY OF NORTHEAST MEN'S WELLNESS GOALS & FAVORITE ACTIVITIES, AS WELL AS REFERRALS TO NEIGHBORHOOD WELLNESS RESOURCES:
Manifest, an eight-year-old non-profit men's wellness organization that empowers men to prevent & address chronic illness (heart disease, cancer, diabetes, HIV, & depression/suicide), will be doing a door-to-door survey this spring of hundreds of men's' wellness goals, challenges, & favorite activities in the Concordia, Vernon, King, & Sabin neighborhoods. We also will be referring these men to local businesses, non-profits, churches, government agencies, and neighbor organizations that can help them achieve their most important wellness goals. Men in our neighborhoods are dying five years before women from five completely preventable illnesses, and those illnesses are costing our county & state more than a $1 billion annually in unnecessary & painful treatments of diseases we could easily prevent & address right here in our neighborhood with existing resources like local wellness-related businesses, non-profits, churches, government agencies, & neighborhood groups. Men need regular exercise, good food, work, & community focused on wellness, and they are more likely to do these things regularly when they can do them close to home. Manifest intends to hire diverse local men to do the surveys and make neighborhood referrals as they are completing each survey.
We understand that Halloween plus such short notice may make it difficult to attend. If you have a bit of time to spare on Monday, we welcome your participation and input on these proposals. for more information, email us at info@kingneighborhood.org. We hope to see you there!