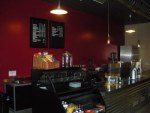 Megan Kennedy has just opened Caffe Brioso in the building between Ned Ludd and Barberama on Martin Luther King Jr Blvd. Their grand opening is this Saturday (Sept 5). They will be open from 7-7 and will be giving away free drinks and samples.
Their focus is using local products and supporting our community while building relationships with their customers. If you have any ideas on how we can involve the community into the coffee shop and vice versa please let her know at caffebrioso@gmail.com.
The local products they carry are:
Bellatazza Coffee (roasted in SunRiver Oregon)
Dragonfly Chai (NE Portland)
Tao of Tea (SE Portland)
Marsee Bakery (NE Portland)
Grand Central Baking Co. (SE Portland)
The address is 3907 NE Martin Luther King Jr. Blvd. Near Wayne's.