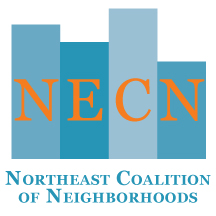 Join the NECN Community Economic Development Council for:
A Framework for Community Economic Development in N/NE Portland
Learn how current state, regional and city policies shape neighborhood-level community economic development. Panelists will address how governmental policies and programs set the stage for local work and translate into community benefits.
Join us on Wednesday, February 1st at St. Andrew Catholic Church, 806 NE Alberta, Portland. Doors open at 6:30pm for networking and refreshments, program from 7:00pm – 9:00pm.
Panel Speakers include:
• Karen Wilde Goddin, Managing Director of the Business, Innovation and Trade Division, Oregon Business Development Department
• Charles A. Wilhoite, Commissioner, Portland Development Commission and Managing Director, Willamette Management Associates.
• John R. Williams, Deputy Director – Planning and Development, Metro
• Rey España, Director of Community Development, Native American Youth and Family Center
This event is part of an ongoing series. Please join us for this and future events as we explore economic development. For additional information please see the attached flyer, visit necoalition.org or call 503.823.4575.
Click here for the flyer:ExploringEconomicDevelwSpeak